Design Like Apple: Seven Principles For Creating Insanely Great Products, Services, and Experiences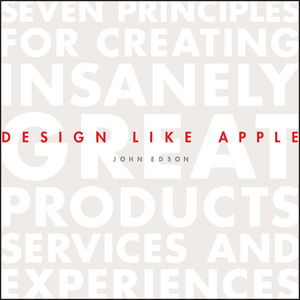 Design Like Apple: Seven Principles For Creating Insanely Great Products, Services, and Experiences
ISBN: 978-1-118-29031-6 July 2012 208 Pages
Description
Implement the same principles that shaped Apple's approach to design
Apple sees design as a tool for creating beautiful experiences that convey a point of view down to the smallest detail--îfrom the tactile feedback of keyboard to the out-of-the-box experience of an iPhone package. And all of these capabilities are founded in a deep and rich embrace of what it means to be a designer.
Design Like Apple uncovers the lessons from Apple's unique approach to product creation, manufacturing, delivery, and customer experience.
Offers behind-the-scenes stories from current and recent Apple insiders
Draws on case studies from other companies that have mastered the creative application of design to create outrageous business results
Delivers how-to lessons across design, marketing, and business strategy
Bridging creativity and commerce, this book will show you to how to truly Design Like Apple.
Table of contents
Introduction: Apple, Design and Steve Jobs
Chapter 1: Design Makes All the Difference: How beauty, ingenuity and charisma create a unique competitive advantage
Chapter 2: Design The Organization: Nurturing taste, talent and a design culture
Chapter 3: The Product Is the Marketing: Great Products Sell Themselves
Chapter 4: Design Is Systems Thinking: Product and context are one.
Chapter 5: Design Out Loud: Prototyping to Perfection
Chapter 6: Design Is For People: Connecting with Your Customer
Chapter 7: Design With Conviction: Commit to a unique voice
Conclusion
Index