Design and Installation of Marine Pipelines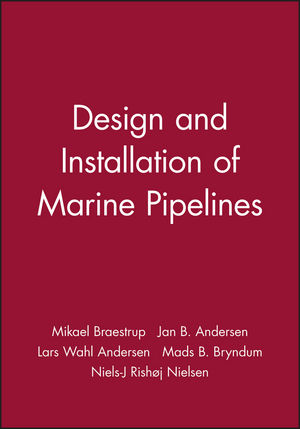 Design and Installation of Marine Pipelines
ISBN: 978-1-405-14874-0 February 2009 Wiley-Blackwell 384 Pages
Description
This comprehensive handbook on submarine pipeline systems covers a broad spectrum of topics from planning and site investigations, procurement and design, to installation and commissioning. It considers guidelines for the choice of design parameters, calculation methods and construction procedures. It is based on limit state design with partial safety coefficients.
Preface.
About the authors.
Glossary and notation.
Chapter 1 INTRODUCTION.
Chapter 2 BASES FOR DESIGN.
Chapter 3 MATERIALS.
Chapter 4 LOADS.
Chapter 5 RISK AND SAFETY.
Chapter 6 DESIGN.
Chapter 7 FABRICATION.
Chapter 8 INSTALLATION.
Chapter 9 CONTROL AND DOCUMENTATION.
Chapter 10 FLEXIBLE PIPELINES.
Chapter 11 OPERATION.
Bibliography and references.
Author index.
Subject index
'The book is easy to read and concise with adequate supporting documentation wherever necessary. The authors have made a comprehensive presentation that the subject unfolds itself and develops smoothly from the beginning till the end that even engineers who are new to the field can easily get a comprehensive overview of the subject. Hence, this book will be useful to students specializing in offshore studies, nd also for practising engineers as a handy reference book.'
Journal of Structural Engineering, June/ July 2005
* brings together extensive data currently scattered throughout a large number of publications
* draws on the extensive experience of a group of practitioners
* features practical case studies