Design and Selection of Performance Surfactants: Annual Surfactants Review, Volume 2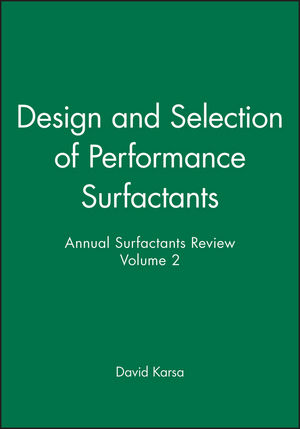 Design and Selection of Performance Surfactants: Annual Surfactants Review, Volume 2
ISBN: 978-1-850-75993-5
Oct 1999, Wiley-Blackwell
378 pages
Product not available for purchase
Description
Based on the premise that all commercially available surfactants are at best simple blends and that many in reality are a complex mixture of surface active species and minor non-surface active components, it rapidly becomes apparent that the prediction of structure-performance relationships is far from easy. The development of surfactants to meet specific performance criteria requires a fundamental knowledge of structural features and / or components which contribute to or possess one or more of the desired surface active properties.

Volume 2 of this Annual Surfactants Review series addresses some of these structure / performance considerations, from computer modelling through to a consideration of how to modify specific surfactants by adjusting carbon chain length distribution, by studying the influence of chain branching, by introducing reactive groups or fluorinated hydrophobes, or by replacing conventional hydrophobes (or hydrophiles) with natural feedstock derivatives. The latter include carbohydrate derivatives, natural hydrocolloids and biosurfactants. A detailed study of catalytic and kinetic effects in ethoxylation processes shows how nonionic ethoxylate compositions can be altered, and this is further illustrated by a consideration of narrow chain length distribution fatty alcohol ethoxylates and their properties. Influence of chain branching in fatty alcohol ethoxylates is also demonstrated, using secondary alcohol ethoxylates as an example. Two end-use applications are included, not only to report the latest developments in those areas but also to illustrate the performance / selection approach in identifying the most appropriate surfactants for a specific end use.
Sugar derived surfactants; Microbial and enzymatic production of biosurfactants; Natural hydrocolloids as food emulsifiers; Narrow alcohol ethoxylates; Catalytic and kinetic effects in ethoxylation processes; Secondary alcohol ethoxylates; Surfactants in floor polishes; Fluorinated surfactants in practice; Polymerizable surfactants: spontaneous polymerization in organized micellar media; Computer modelling of surfactants; References; Index.