Design for Electrical and Computer Engineers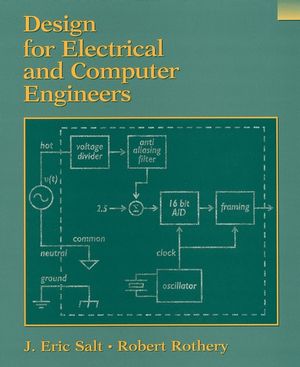 Design for Electrical and Computer Engineers
ISBN: 978-0-471-39146-3
Sep 2001
192 pages
Description
Eric Salt and Robert Rothery's Design for Electrical and Computer Engineers guides students through each stage of the engineering process, from start to finish. As students work through the text, they will develop a strong theoretical framework and master practical techniques that they can rely on throughout their academic and professional careers. Students learn how to define a customer's needs and the design problem, synthesize solutions, evaluate alternatives, and complete the systems level design. The text also addresses the important issues of documentation and testing. In addition, students will find a number of examples and templates throughout the text, including suggested outlines for design documents such as design specifications, project plans, and test plans. This text is suitable as a main text or supplement for a junior, senior or graduate course in Electrical Engineering Design or Project Management.
List of Figures.

List of Tables.

Introduction.

The Design Process.

Requirements Analysis.

System Design.

Managing the Design Process.

Detailed Design, Testing, and Design Management.

Appendix A: Case Study.

Appendix B: System Design Exercise.

Bibliography.

Index.
Presents a step-by-step methodology for engineering design that enable students to learn practical tools that can be used in a capstone course and in the real world. An example of the text's step-by-step methodology can be seen in section 4.4.
A case study elaborates concepts introduced in the text.
A chapter on project management provides practical suggestions for organizing design teams, scheduling tasks, monitoring progress, and reporting status of design projects.
Includes practical templates and system-level design tools that you can use in your design course, capstone project, and as a practicing engineer. Sections 6.2 and 6.3 provide examples for controlling design documentation, conducting design reviews and testing the design.
Explains both creative and linear thinking and relates the types of thinking to the productivity of the design engineers and novelty of the end design.