Designing Conflict Management Systems: A Guide to Creating Productive and Healthy Organizations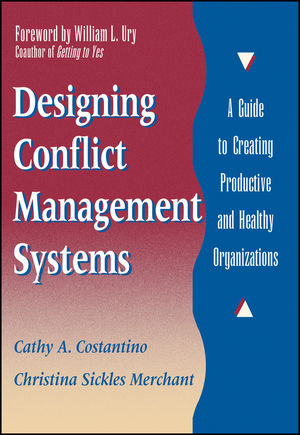 Designing Conflict Management Systems: A Guide to Creating Productive and Healthy Organizations
ISBN: 978-0-787-90162-2
Nov 1995, Jossey-Bass
272 pages
Description
Expert advice on building better conflict management programs

Conflict in the workplace is always an eventuality. But it needn't be so costly or counter-productive. This book presents a clear, step-by-step approach for developing conflict management systems within any organization that anticipate the inevitability of conflict and deal with it in a effecient, cost-effective way. The authors, both promiment experts in the field, present a structured process for assessing conflict management programs in order to improve them or to implement new ones. As such, this book serves as an excellent resource for organization development and human resource professionals and consultants interested in proactively tackling the business concerns that conflict brings.
COPING WITH CONFLICT IN ORGANIZATIONS.

Organizational and Individual Responses to Conflict.

Conflict Management as a System.

The Emerging Use of ADR in Organizations.

IMPROVING CONFLICT MANAGEMENT SYSTEMS.

Interest-Based Dispute Systems Design.

Moving into the System: Entry and Contracting.

Looking at the Big Picture: Organizational Assessment.

Constructing Conflict Management Models: Design Architecture.

Building a Knowledge and Skill Base: Training and Education.

Getting Started: Implementation.

Motivating Others: Rewards and Incentives.

Figuring Out If It Works: Evaluation.

TROUBLESHOOTING CONFLICT MANAGEMENT SYSTEMS.

Taking the System as You Find It.

Having Tea with Your Demons: Resistance and Constraints.

Epilogue: Policy and Practice Implications for Improvement of Conflict Management Systems.
"A real contribution to advancing the field of systems design." (from the foreward by William L. Ury, coauthor of Getting to Yes and author of Getting Past No)