Designing Digital Space: An Architect's Guide to Virtual Reality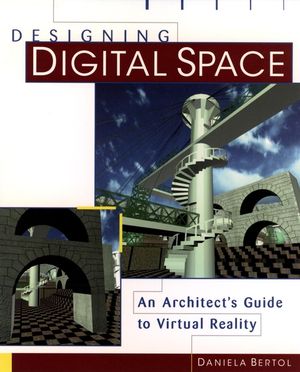 Designing Digital Space: An Architect's Guide to Virtual Reality
ISBN: 978-0-471-14662-9
Dec 1996
368 pages
Description
The Complete Guide to Virtual Reality in Architecture and Design

The first in-depth book on virtual reality (VR) aimed specifically at architecture and design professionals, Designing Digital Space steers you skillfully through the learning curve of this exciting new technology. Beginning with a historical overview of the evolution of architectural representations, this unique resource explains what VR is, how it is being applied today, and how it promises to revolutionize not only the design process, but the form and function of the built environment itself. Vividly illustrating how VR fits alongside traditional methods of architectural representation, this comprehensive guide prepares you to make optimum practical use of this powerful interactive tool, and embrace the new role of the architect in a virtually designed world.

Offers in-depth coverage of the virtual universe--data representation and information management, static and dynamic worlds, tracking and visual display systems, control devices, and more.

Examines a wide range of current VR architectural applications, from walkthroughs, simulations, and evaluations to reconstructions and networked environments

Includes insightful essays by leading VR developers covering some of today's most innovative projects

Integrates VR into the historical framework of architectural development, with detailed sections on the past, present, and future

Features a dazzling array of virtual world images and sequential displays

Explores the potential impact of digital architecture on the built environment of the future
Partial table of contents:

THE PAST.

The Quest for Three-Dimensionality.

From Images of Architecture to Architecture of Images.

THE PRESENT.

The Electronic Revolution in Architecture.

Solid and Digital Architecture.

Virtual Reality.

The Stuff VR Is Made Of.

Architectural Design and Virtual Reality.

WHO IS DOING WHAT?

Architectural Applications and the Responsive Workbench.

Architectural Realities: Virtual Reality Case Studies at Calibre Institute.

Community and Environmental Design and Simulation: The CEDeS Lab at the University of Washington.

Real Buildings and Virtual Spaces.

THE FUTURE.

A Few Observations about the Future of Architecture in a Digital World.

A Few Hypotheses for Reconstructed Architecture.

Index.