Designing Effective Instruction, 7th Edition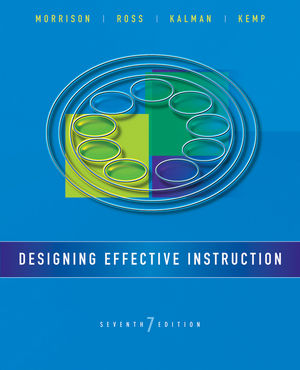 Designing Effective Instruction, 7th Edition
ISBN: 978-1-118-35999-0
Dec 2012
480 pages
Description
This is a valuable resource that provides instructional designers with the practical skills they need to meet the challenges of creating effective and efficient educational materials. Updated and revised, the Seventh Edition focuses on a consistent approach to instructional design by reflecting the trends both in practice and in research. The basics of instructional design are covered, helping students develop a solid foundation in the design process so that they can use the skills in the content of multi-media, classroom, and distance-education sttings. Designing Effective Instruction, 7th Edition incorporates both behavioral and cognitive approaches into the design model that reflects design decisions based on research.
Chapter 1: Introduction to the Instructional Design Process.
Chapter 2: Identifying the Need for Instruction.
Chapter 3: Learner and Contextual Analysis.
Chapter 4: Task Analysis.
Chapter 5: Instructional Objectives.
Chapter 6: Designing the Instruction: Sequencing.
Chapter 7: Designing the Instruction: Strategies.
Chapter 8: Designing the Instructional Message.
Chapter 9: Developing Instructional Materials.
Chapter 10: Design Considerations for Technology-Based Instruction.
Chapter 11: The Many Faces of Evaluation.
Chapter 12: Developing Evaluation Instruments.
Chapter 13: Using Evaluation to Enhance Programs: Conducting Formative and Summative Evaluations.
Chapter 14: Learning Theory and Instructional Theory.
Chapter 15: Planning for Instructional Implementation.
Chapter 16: Instructional Design Project Management.
Appendix A: Sample Design Document.
Appendix B: Sample Unit.
There have been significant updates to all the chapters to include resent trends and research. The updates are consistent with the text's approach to instructional design and reflect the trends in both practice and research.
Every chapter begins with Getting Started, a section providing real-world scenarios of an aspect of the chapter.
What happens when an instructional designer tries to design a project in the real world? The Expert's Edge pieces were contributed by practicing instructional designers and scholars who share their knowledge, successes, failures, and perespectives from the real world. The Expert's Edge pieces reflect an international perspective as well as different contexts i nwhich instructional design is conducted.
Instructional design texts, as most scholarly texts, tend to take a sterile approach to writing. The ID Process sections allow us to present a "here's how it is really done" discussion of each element of the model.
Applications and Answers are presented at the end of each chapter for the readers to test their skills and knowledge.
Quality Management sections help designers conduct a quick quality check of the design project. Key questions and issues are presented to keep the project aligned with solving the instructional problem.
Instructional Design: Decisions and Choices section tracks an instructional design project through the ID process, providing a realistic example of the instructional design process along with commentary from the designer on the decisions and choices made at each step of the process.