Designing Engineers: An Introductory Text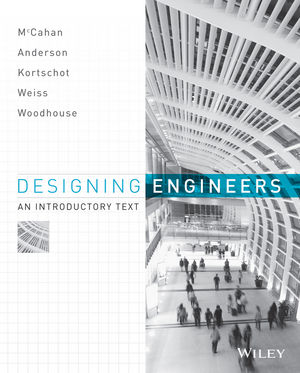 Designing Engineers: An Introductory Text
ISBN: 978-0-470-93949-9 January 2015 624 Pages
Description
Designing Engineers First Edition is written in short modules, where each module is built around a specific learning outcome and is cross-referenced to the other modules that should be read as pre-requisites, and could be read in tandem with or following that module. The book begins with a brief orientation to the design process, followed by coverage of the design process in a series of short modules. The rest of the book contains a set of modules organized in several major categories: Communication & Critical Thinking, Teamwork & Project Management, and Design for Specific Factors (e.g. environmental, human factors, intellectual property). A resource section provides brief reference material on economics, failure and risk, probability and statistics, principles & problem solving, and estimation.
Entering the Design Process
Orientation
1. Introduction
2. Design Process Review
3. Phases of a project
4. Communicating through the process
5. What engineers design
6. How design projects are initiated
Navigation
1. The core process cycle
2. School projects
The Core Engineering Design Process
1. Requirements Generation
2. Multi-use Design Tools
3. Idea Generation
4. Decision Making
5. Iterating
6. Investigating Ideas
7. Post-conceptual Design
Appendices
Appendix A: Communication & Critical Thinking
1. Critical Thinking
2. Communication
Written
Visual
3. Audio-Visual
Appendix B: Teamwork & Project Management
Teamwork
1. Project Management
Basics of Project Management
Advanced Project Management
Instructions for PM software
1. Interacting with a Client
Appendix C: Design for X
Design for Durability
Design for the Environment
Design for Flexibility
Design for Human Factors
Design for Intellectual Property
Design for Manufacturability
Design for Safety
Design for Testing & Maintenance
Appendix D: Resources
Principles & Problem Solving
Economics
Probability & Statistics
Failure & Risk
Estimation
Case Studies
Glossary
Modular – the text is written as a set of discrete modules that can be taught in virtually any selection and order.
Multidisciplinary – the text roots design concepts in a disciplinary context, enabling students to see how design tasks and roles play out in realistic scenarios.
Designed for Digital Reading – modules are very brief, thoroughly cross-reference and linked to related topics. Hashtags in the digital edition provide a quick mode of linking and cross-referencing.
Expert Author Team - The team of authors of Designing Engineers practice the concepts and process of design as outlined in their text.

Susan McCahan is vice-dean ofFaculty of Applied Science & Engineering, University of Toronto;
Peter Weiss is Communication Coordinator of Engineering Strategies and Practice, University of Toronto;
Phil Anderson is Senior Lecturer of Computer Engineering, University of Toronto;
Mark Kortschot is Chair of the Division of Engineering Science, University of Toronto; and
Kimberly A. Woodhouse is Dean of the Applied Science and Engineering Department, Queen's University.