Designing Public Consensus: The Civic Theater of Community Participation for Architects, Landscape Architects, Planners, and Urban Designers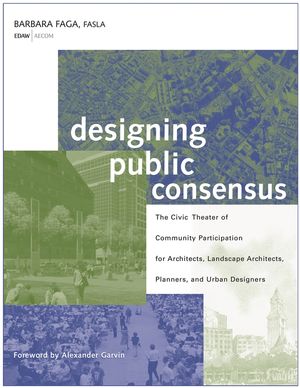 Designing Public Consensus: The Civic Theater of Community Participation for Architects, Landscape Architects, Planners, and Urban Designers
ISBN: 978-0-471-68119-9
Mar 2006
304 pages
Product not available for purchase
Description
"At long last we have a great book on public participation in the planning process. Designing Public Consensus presents examples of the interaction between architects, planners, landscape designers, engineers, and the public. More important, Barbara Faga presents situations when that interaction has worked, when it has not, and why. She is able to extract, from what she has dubbed "civic theater," practical recommendations for professionals who practice in a democracy that requires such interaction." --From the Foreword by Alexander Garvin, former vice president for planning, design and development for the Lower Manhattan Development Corporation

Designing Public Consensus is an insightful and useful resource for architects, planners, and urban designers, with case study examples illustrating approaches for working with small towns, large cities, government agencies, citizen activists, community groups, and other stakeholders.

By examining the public process implemented by EDAW and a variety of design firms in urban design projects of different scales, Faga reveals the lessons learned by the design practitioners. Throughout the case studies, first-person accounts by the designers, government officials, clients, and other stakeholders reveal the moments of brilliance as well as the good intentions gone wrong.
Foreword.
Acknowledgments.
Introduction.
1. A Boston Education.
Case Study: Wharf District Park, Boston, Massachusetts.
2. Ground Zero.
Case Study: Listening to the City, New York, New York.
3. Planning in Public.
Case Studies: Austell Intermodal Facility, Austell, Georgia.
Youngstown 2010, Youngstown, Ohio.
4. Designing Consensus.
Case Study: Freedom Park, Atlanta, Georgia.
5. Leading by Collaboration.
Case Studies: Zoning Reform, Chicago, Illinois.
West Philadelphia Initiatives, Philadelphia, Pennsylvania.
Penn's Landing Forums, Philadelphia, Pennsylvania.
6. Opposition.
Case Study: Disney's America, Haymarket, Virginia.
7. The Future of Public Participation.
Case Studies: Mutirão 50, Fortaleza, Brazil.
Visitacion Valley, San Francisco, California.
Imagine New York, New York, New York.
Afterword.
Appendices.
Notes.
Index.
"For those who are doing a highly public project for the first time, or perhaps extending beyond their past experience, the book provides a strong starting point and an invaluable reference". (
AIA
, San Francisco, October 1, 2006)
"...a must read...provides valuable lessons...offers valuable insight and tips...the text is easy and interesting reading...organised...well edited...a thoroughly good read and a resource that you will return to again and again..." (Green Places incorporating Landscape Design, August 2006)