Designing Search: UX Strategies for eCommerce Success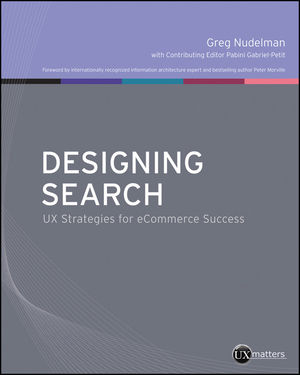 Designing Search: UX Strategies for eCommerce Success
ISBN: 978-0-470-94223-9 May 2011 368 Pages
Description
Best practices, practical advice, and design ideas for successful ecommerce search
A glaring gap has existed in the market for a resource that offers a comprehensive, actionable design patterns and design strategies for ecommerce search—but no longer. With this invaluable book, user experience designer and user researcher Greg Nudelman shares his years of experience working on popular ecommerce sites as he tackles even the most difficult ecommerce search design problems. Nudelman helps you create highly effective and intuitive ecommerce search design solutions and he takes a unique forward-thinking look at trends such as integrating searching with browsing to create a single-finding user interface.
Offers much-needed insight on how to create ecommerce search experiences that truly benefit online shoppers
Juxtaposes examples of common design pitfalls against examples of highly effective ecommerce search design solutions
Presents comprehensive guidance on ecommerce search design strategies for the Web, mobile phone applications, and new tablet devices
Shares the author's years of unique experience working with ecommerce from the perspective of the user's experience
Designing ecommerce Search is mandatory reading if you are interested in orchestrating successful ecommerce search strategies.
Foreword.
Introduction.
Part I: Op timizing eCommerce Search Res ults Pages.
Chapter 1:Starting from Zero: Winning Strategies for No Search Results Pages.
Chapter 2:How Shoppers Search.
Chapter 3:Choosing the Right Search Results Page Layout.
Chapter 4:Balancing Pogosticking and Page Relevance.
Chapter 5:Making $10,000 a Pixel: Optimizing Thumbnail Images in Search Results.
Chapter 6:Best Practices for Ads in Search Results.
Part II: Des igning eCommerce Search Interactions.
Chapter 7:Best Practices for Designing Faceted Search Filters.
Chapter 8:Numeric Filters: Issues and Best Practices.
Chapter 9:Date Filters: Successful Calendar Design Patterns.
Chapter 10:The Mystery of Filtering by Sorting.
Chapter 11:Designing Query Disambiguation Solutions for Online Shopping.
Chapter 12:Introducing the More Like This Design Pattern.
Chapter 13:Designing Effective Breadcrumbs.
Part III: The Future of eCommerce Search.
Chapter 14:The Brave New World of Visual Browsing.
Chapter 15:Designing Mobile Search: Turning Limitations into Opportunities.
Chapter 16:Design Patterns for More Effective Mobile Faceted Search.
Chapter 17:Search on Tablet Devices: The Flight of Discovery.
Chapter 18:Search for eCommerce Help Systems (ONLINE ONLY).
Appendix:Designing Search: Best Practices (ONLINE ONLY).
Index.
Chapter
Page
Details
Date
Print Run
13
Typo
last line before figure, please insert the word ?an? between ?using? and ?effective?.
6/29/11

---

28
Typo
in the blue text box at the top, please change ?user? to ?use? in the second sentence.
6/29/11

---

4
70
Errors in Text (2)
under the heading "Objective":



for Interactive Density, add a division sign(?)between "elements" and "dimensions", 
so the definition reads, "A simple formula: Number of interactive elements ? dimensions". 



AND




for Jack-in-the-boxiness, substitute "mouse-over" for "interactive",
so the definition reads, "Number of mouse-over elements ? dimensions"

5/19/11

---