Designing Successful e-Learning: Forget What You Know About Instructional Design and Do Something Interesting, Michael Allen's Online Learning Library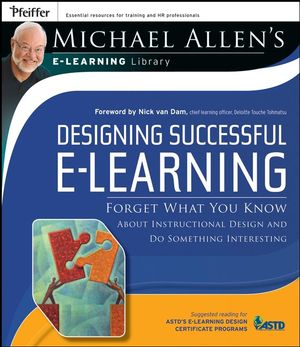 Designing Successful e-Learning: Forget What You Know About Instructional Design and Do Something Interesting, Michael Allen's Online Learning Library
ISBN: 978-1-118-03831-4
Feb 2017, Pfeiffer
256 pages
Description
This is the second volume of six in Michael Allen's e-Learning Library—a comprehensive collection of proven techniques for creating e-learning applications that achieve targeted behavioral outcomes through meaningful, memorable, and motivational learning experiences. This book examines common instructional design practices with a critical eye and recommends substituting success rather than tradition as a guide. Drawing from theory, research, and experience in learning and behavioral change, the author provides a framework for addressing a broader range of learner needs and achieving superior performance outcomes.
About the library series.
Acknowledgment.
Foreword.
Preface.
PART ONE: REAL-WORLD CONTEXTS.
Scenario 1. Hoboken Automotive Devices.
Scenario 2. Water Mountain Beverage Company.
Scenario 3. Top Tech Temps.
Scenario 4. Bellmore University.
PART TWO: THE ART & SCIENCE OF INSTRUCTIONAL DESIGN.
Chapter 5. What Is Instructional Design?
Chapter 6. Success-Based Design.
Chapter 7. Designing Outside the Box.
PART THREE: DESIGNING SUCCESSFUL E-LEARNING.
Chapter 8. Designing Pre-Instructional Events.
Chapter 9. Designing Instruction: Foundations.
Chapter 10. Designing Instruction: Meaningful Events.
Chapter 11. Designing Instruction: Memorable Events.
Chapter 12. Designing Instruction: Motivational Events.
Chapter 13. Designing Performance Aids.
Self-Assessment.
Sucess Assessment.
A Final word.
Index.
About Allen Interactions Inc.
About the Author.