Designing Team-Based Organizations: New Forms for Knowledge Work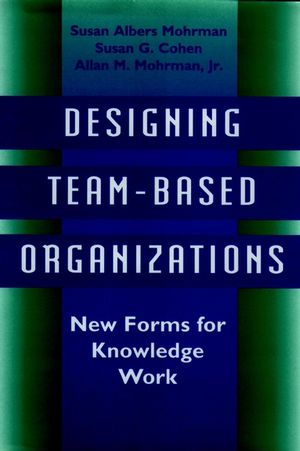 Designing Team-Based Organizations: New Forms for Knowledge Work
ISBN: 978-0-787-90080-9
May 1995, Jossey-Bass
389 pages
Description
"A terrific book!" —David A. Nadler, chairman, Delta Consulting Group

Tackle the organizational issues related to implementing teams. Learn new designs to support the knowledge work components of organizations. Drawing on over fifteen years of research and consulting with such companies as Honeywell, Hewlett-Packard, Pacific Bell, General Mills, Pratt and Whitney, Pfizer, and Texas Instruments, the authors shows you how to create new organization designs that empower teams so that they make a real difference.

You'll discover how to:
Design new work teams
Identify new roles and responsibilities
Manage team performance
Create an empowering team environment
Over 50 tables, figures, and exhibits reinforce the practical text. Even if teams already exist at your organization, you'll use this well-researched guide to push your teams to higher levels of performance!
ORGANIZATIONS AND TEAMS.

Designing Organizations for Knowledge Work.

Exploring the Contours of a Team-Based Organization.

THE DESIGN SEQUENCE.

Step One: Identifying Work Teams.

Step Two: Specifying Integration Needs.

Step Three: Clarifying Management Structure and Roles.

Step Four: Designing Integration Processes.

Step Five: Managing Performance.

IMPLEMENTATION CONCERNS.

Identifying New Responsibilities and Skills.

Defining Empowerment for the Team Environment.

Developing Organizational Support Systems.

Making the Transition to Team-Based Design.

Facing the Challenges Ahead.
"A terrific book! It makes a tremAndous contribution by moving forward the state of the art in organization design." (David A. Nadler, chairman, Delta Consulting Group Inc.)

"In an era when competitive forces demand that corporations move toward a team-based organization, this book is must reading for executives. Based on careful research, it provides the best and most comprehensive road map I have seen for designing and implementing the paradigm shift companies must make to survive and prosper in the decades ahead." (Michael Beer, professor of business administration, Graduate School of Business Administration, Harvard University)

"This book is enormously important and timely. It is a scholarly, yet highly practical, guide to the future design of the 21st century organization--where organizations will be predominantly team-based and designed for high performance knowledge management." (Stuart S. Winby, director, Product Processes Change Management, Hewlett-Packard Company)