Designing and Assessing Courses and Curricula: A Practical Guide, 3rd Edition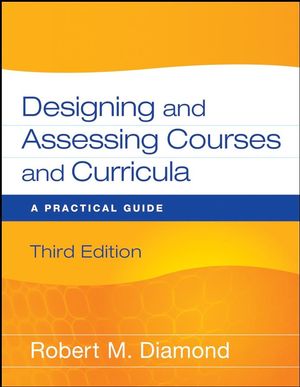 Designing and Assessing Courses and Curricula: A Practical Guide, 3rd Edition
ISBN: 978-1-118-04546-6
Jan 2011, Jossey-Bass
512 pages
Description
Designing and Assessing Courses and Curricula reflects the most current knowledge and practice in course and curriculum design and connects this knowledge with the critical task of assessing learning outcomes at both course and curricular levels. This thoroughly revised and expanded third edition of the best-selling book positions course design as a tool for educational change and contains a wealth of new material including new chapters, case examples, and resources.
Preface.
Acknowledgments.
About the Authors.
PART I: A FRAME OF REFERENCE.
1. A Learning-Centered Approach to Course and Curriculum Design.
2. The Expanding Role of Faculty in Accreditation and Accountability.
3. Staying Informed.
4. Scholarship and Faculty Rewards.
5. An Introduction to the Model and Its Benefits.
6. Diagramming.
PART II: THE PROCESS.
7. Making the Decision to Go Ahead.
8. Getting Started.
9. Linking Goals, Courses, and Curricula.
10. Gathering and Analyzing Essential Data.
11. Thinking in the Ideal.
12. Adjusting from the Ideal to the Possible.
13. Clarifying Instructional Goals and Learning Outcomes.
14. Designing and Implementing Your Assessment Plan: Overview and Assessing a Curriculum.
15. Designing and Implementing Your Assessment Plan: Assessing a Course.
PART III: DESIGNING, IMPLEMENTING, AND ASSESSING THE LEARNING EXPERIENCE.
16. Designing the Learning Experience: The Research on Teaching and Learning.
17. Designing the Learning Experience: Your Instructional Options.
18. Using Technology to Support Learning.
Wallace Hannum.
19. Distance Learning.
Wallace Hannum.
20. Meeting the Needs of Adult Learners.
G. Roger Sell.
21. Addressing Diversity.
G. Roger Sell.
22. Developing a Learning-Centered Syllabus.
PART IV: YOUR NEXT STEPS.
23. Using Your Data: Curriculum and Course Revision.
24. Learning from Experience.
Resources.
References.
Index.