Designing and Building with the IBC: Compares IBC 2003 with IBC 2000 and the Model Building Codes, 2nd Edition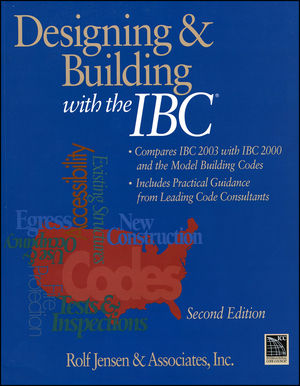 Designing and Building with the IBC: Compares IBC 2003 with IBC 2000 and the Model Building Codes, 2nd Edition
ISBN: 978-0-876-29703-2
Sep 2003
990 pages
Product not available for purchase
Description
No matter what code you're using or where your project is located, this reference is essential for designing, building, or inspecting, using the latest building codes. This second edition provides expert guidance on the making the transition to the IBC for architects and engineers, building officials and AHJs, contractors and homebuilders, and manufacturers and building owners. It provides complete coverage of the International Building Code (IBC) 2003, with expert advice and comprehensive comparison to the IBC 2000 and model building codes.

In this edition, Rolf Jensen & Associates, Inc., the leading U.S. building code consultants, worked with the International Code Council to present a user-friendly, side-by-side comparison of the model building codes, the IBC 2000, and the IBC 2003. The IBC 2003 revisions include construction methodologies, life safety and property protection provisions, and structural requirements.

Additions to the IBC 2003 that are covered in this book include:
Changes in numbering system and format
Alignment of IBC 2003 with HUD "Safe Harbor" requirements
Frame construction and testing for sloped glazing and skylights
Separation between private garages and dwelling units
Smoke partitions, through penetrations, and new wall assemblies
New fire alarm and sprinkler system requirements
Seismic requirements and wind load design methods
Cold-formed steel in light frame construction
Site grading, excavation, and earthwork
FEATURES:
Additional features for ease-of-use include:
A Quick-Find Index that lets users instantly identify the IBC equivalent to model codes they are familiar with (Uniform Building Code, BOCA National Building Code, and Standard Building Code)
Side-by-side comparison that spells out differences between model code requirements and the 2003 and 2000 versions of the IBC
Expert advice on implementation from Rolf Jensen & Associates' engineers and the International Code Commission
New illustrations to clarify IBC 2003 requirements
Preface.
About the Authors.
About the Contributors.
Part One.
Introduction.
How to Use This Book.
Part Two: Quick-Find Code Index.
UBC to IBC.
BNBC to IBC.
SBC to IBC.
Part Three: Code Commentary.
Part Four: Code Comparison: Model Codes to IBC.
Chapter 1: Administration.
Chapter 2: Definitions.
Chapter 3: Use/Occupancy.
Chapter 4: Occupancy-Detailed Requirements.
Chapter 5: Building Heights/Areas.
Chapter 6: Types of Construction.
Chapter 7: Fire-Resistance-Rated Construction.
Chapter 8: Interior Finishes.
Chapter 9: Fire Protection.
Chapter 10: Means of Egress.
Chapter 11: Accessibility.
Chapter 12: Interior Environment.
Chapter 13: Energy Efficiency.
Chapter 14: Exterior Walls.
Chapter 15: Roof Assemblies & Rooftop Structures.
Chapter 16: Structural Design.
Chapter 17: Structural Tests & Special Inspections.
Chapter 18: Soil & Foundations.
Chapter 19: Concrete.
Chapter 20: Aluminum.
Chapter 21: Masonry.
Chapter 22: Steel.
Chapter 23: Wood.
Chapter 24: Glass & Glazing.
Chapter 25: Gypsum Board & Plaster.
Chapter 26: Plastic.
Chapter 27: Electrical.
Chapter 28: Mechanical.
Chapter 29: Plumbing.
Chapter 30: Elevators & Conveying Systems.
Chapter 31: Special Construction.
Chapter 32: Right-of-Way/Encroachment.
Chapter 33: Construction Safeguards.
Chapter 34: Existing Structures.
Chapter 35: Referenced Standards.
IBC Appendices
A: Employee Qualifications.
B: Board of Appeals.
C: Group U: Agricultural Buildings.
D: Fire Districts.
E: Supplementary Accessibility Requirements.
F: Rodent-Proofing.
G: Flood-Resistant Construction.
H: Signs.
I: Patio Covers.
J: Grading.
Part Five.
Resources.
Index.