Designing and Conducting Health Surveys: A Comprehensive Guide, 3rd Edition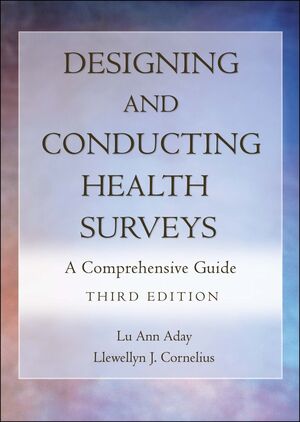 Designing and Conducting Health Surveys: A Comprehensive Guide, 3rd Edition
ISBN: 978-1-118-04667-8
Jan 2011, Jossey-Bass
544 pages
Description
Designing and Conducting Health Surveys is written for students, teachers, researchers, and anyone who conducts health surveys. This third edition of the standard reference in the field draws heavily on the most recent methodological research on survey design and the rich storehouse of insights and implications provided by cognitive research on question and questionnaire design in particular. This important resource presents a total survey error framework that is a useful compass for charting the dangerous waters between systematic and random errors that inevitably accompany the survey design enterprise. In addition, three new studies based on national, international, and state and local surveys—the UNICEF Multiple Indicator Cluster Surveys, California Health Interview Survey, and National Dental Malpractice Survey—are detailed that illustrate the range of design alternatives available at each stage of developing a survey and provide a sound basis for choosing among them.
Figures, Tables, and Exhibits vii
Foreword by Steven B. Cohen xi
Preface xv
The Authors xxi
1 Thinking About Topics for Health Surveys 1
2 Matching the Survey Design to Survey Objectives 27
3 Defining and Clarifying the Survey Variables 48
4 Thinking Through the Relationships Between Variables 81
5 Choosing the Methods of Data Collection 100
6 Deciding Who Will Be in the Sample 124
7 Deciding How Many Will Be in the Sample 154
8 General Principles for Formulating Questions 194
9 Formulating Questions About Health 221
10 Formulating Questions About Demographics and Behavior 245
11 Formulating Questions About Knowledge and Attitudes 268
12 Guidelines for Formatting the Questionnaire 288
13 Monitoring and Carrying Out the Survey 311
14 Preparing the Data for Analysis 340
15 Planning and Implementing the Analysis of the Data 360
16 Writing the Research Report 391
Resource A: Personal Interview Survey: UNICEF Multiple Indicator Cluster Survey (MICS-2)—End-Decade Study 405
Resource B: Telephone Interview Survey: California Health Interview Survey (CHIS)—2001 407
Resource C: Mail Questionnaire Survey: National Dental Malpractice Survey 408
Resource D: Selected Sources on Health Surveys 433
Resource E: Selected Examples of Health Surveys 442
References 451
Name Index 495
Subject Index 505
•     Computerized data gathering technologies
•     3 new studies based on national, international, and state/local surveys – the UNICEF Multiple Indicator Cluster Surveys, California Health Interview Survey, and National Dental Malpractice Survey as examples – each example was chosen to illustrate different sample designs (area probability, random digital dialing, and list sampling, modes of data collection (in-person, telephone, and self administered surveys), and topics (health status, healthcare access and utilization, health and health care disparities, healthcare provider attitudes and behavior.
Established reference for field: Designing and Conducting Health Surveys 2nd ed (July 1996) has sold 8,000 copies (net), including very solid 3,220 units/$118,305 (net) since Wiley's tracking started in 2000.
Good timing for revision: New practices, such as telephone surveys, internet questionnaires, and community-based techniques, are being added to the scope of methods in this book.
Currency: Readers will find an increased focus on role of health surveys in providing information about public health problems, including AIDS, lifestyle-related illnesses, and access to health care for disadvantaged and minority populations. A new coauthor, also with a sterling reputation, provides the book's broader sociological perspective in many of the chapters, reflecting a trend in the field during the last decade.
Ready for the classroom: Guidelines for minimizing survey errors, as well as the special issues in designing health surveys of special populations, are highlighted at the end of each chapter. For those who would like to explore any aspect of survey design discussed in the book in more depth, an extensive set of references is provided, and selected sources most relevant to the topics addressed in the respective chapters are highlighted at the end of each chapter.