Designing and Conducting Your First Interview Project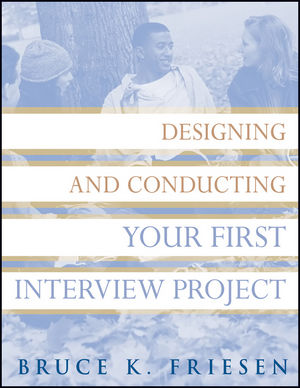 Designing and Conducting Your First Interview Project
ISBN: 978-0-470-18351-9
May 2010, Jossey-Bass
256 pages
Description
Designing and Conducting Your First Interview Project
Using a clear, easily followed approach, Designing and Conducting Your First Interview Project helps anyone new to the process develop the skills to conduct the most essential part of social research data collection: the interview. The book also shows how to organize, analyze, and interpret the data.
This workbook provides a step-by-step template for a collaborative class experience in social science. Organized according to the steps of the deductive scientific method, it includes essential activities to take place during class after the appropriate chapter has been read. The book begins with the process of choosing a topic and proceeds through hypothesis development, interview data collection, data entry using SPSS, and elementary data analysis. The final chapter includes the formal assignment and instructions to students on how to write about their experiences in a way that will produce an excellent final paper. By selecting the hypothesis, gathering the data, and analyzing the results, students will gain an appreciation for the strengths and potential weaknesses of "knowing" things through doing quantitative social science.
Exhibits, Figures, and Tables.
Preface.
The Author.
1 Choosing a Topic.
How Social Scientists Choose a Topic to Study.
Pursuing Your Own Interests.
Things to Consider as Your Class Chooses a Topic.
2 Literature Review.
An Opportunity for You to Help Humankind.
Searching for Journal Articles.
Conducting Your Literature Review.
3 Refining Your Study: Concepts and Relationships.
From Concept to Relationship.
The Causal Model.
Being Specific: Turning a Relationship into a Hypothesis.
Tying Your Hypothesis Back to Your Literature Review.
4 Developing Your Theory: Thinking Made Explicit.
Thinking Sociologically.
An Example.
Logic: A Tool of the Trade.
Assumptions of Science.
Combining Sociological Thinking with Logic: Theorizing.
Developing a Theory for Your Class Project.
5 Research Design 1: Concepts and Planning.
Validity and Reliability.
Steps in Research Design.
Step One: Defi ne Concepts.
Step Two: Plan the Study.
6 Research Design 2: Methods and Sampling.
Step Three: Choose a Data Collection Method.
Step Four: Identify Your Population and Sampling Method.
7 The Interview Schedule: Operationalization.
Operationalizing Variables.
The Process of Operationalization.
The Interview Schedule.
8 Conducting Ethical Interviews.
Your Own Ethical Challenge.
Ethical Abuses in Research.
The Development of Standards.
9 How to Be a Good Interviewer.
First Prep: An Attitude of Inquiry.
A Note About Interviews.
Critical Issues: Validity and Reliability Revisited.
How to Collect Unreliable Data.
How to Conduct a Great Interview.
Refl ecting on Interviews.
10 Entering Your Data into the Computer.
Using SPSS.
Codebooks.
Precoding Interviews and Surveys.
Preparing for Data Entry.
Entering Data: Using SPSS.
11 Data Analysis 1: Producing Frequencies and Collapsing Variables.
Data Analysis Begins with Asking Questions.
Checking Your Work.
12 Data Analysis 2: Creating Composite Variables and Cross-Tabs.
Indices and Scales.
Creating Cross-Tabulation Tables.
Producing Tables to Test Your Class Hypothesis.
13 Interpreting Your Results: Cross-Tabulation Tables.
Reading a Cross-Tabulation Table.
Controlling for a Third Variable.
Controlling for a Third Variable Using SPSS.
14 Writing Up Your Assignment.
Doing It Right the First Time.
Hints on Answering Questions.
Formatting Your Paper.
The Larger Benefi ts of Social Science.
Glossary.
Bibliography.
Index.