Designing and Constructing Instruments for Social Research and Evaluation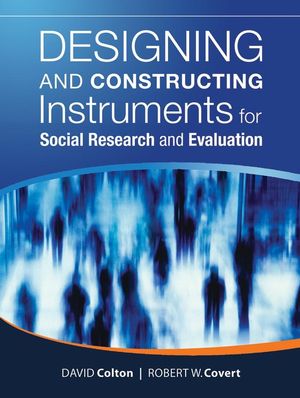 Designing and Constructing Instruments for Social Research and Evaluation
ISBN: 978-1-119-17797-5
Jun 2015, Jossey-Bass
412 pages
Description
Written in easy-to-understand language, this important text provides a systematic and commonsense approach to developing instruments for data collection and analysis. This book can be used by both those who are developing instruments for the first time and those who want to hone their skills, including students, agency personnel, program managers, and researchers.

This book provides a thorough presentation of instrument construction, from conception to development and pre-testing of items, formatting the instrument, administration, and, finally, data management and presentation of the findings. Throughout the book, the authors emphasize how to create an   instrument that will produce trustworthy and accurate data. To that end they have included guidelines for reviewing and revising the questionnaire to enhance validity and reliability. They also show how to work effectively with stakeholders such as instruments designers, decision-makers, agency personnel, clients, and raters or respondents.
Figures, Exhibits, Tables, and Instruments.
Preface: Asking and Answering.
Feedback.
Acknowledgments.
The Authors.
PART ONE: CONCEPTS.
1. Introduction.
2. Instruments and Social Inquiry.
3. Measurement.
4. Instrument Construction, Validity, and Reliability.
PART TWO: APPLICATION.
5. Purposeful Creativity: First Steps in the Development of an Instrument.
6. Pretesting.
7. The Structure and Format of Selection Items.
8. Guidelines for Writing Selection Items.
9. Selection Items: Alternative Formats.
10. Supply Items: Open-Ended Questions.
11. Guidelines for Constructing Multi-Item Scales.
PART THREE: ORGANIZATION AND ADMINISTRATION.
12. Organizing the Instrument.
13. Administering the Instrument.
14. Computers and Instrument Construction.
15. Managing the Data and Reporting the Results.
References.
Index.
* Presents a step-by-step approach to instrument design for social sciences research, from theory to design and construction of instruments (i.e. surveys, polls, customer satisfaction forms, ratings, checklists)
* Provides a thorough review of the research process from start to finish
* Addresses the rapidly evolving area of online and email surveys and the use of incentives and other methods to increase response rate
* Offers the most current methods on scale construction and assessment of the construct validity of an instrument
* Features chapter exercises and case examples that illustrate the essential criteria for each of the steps