Designing and Developing Training Programs: Pfeiffer Essential Guides to Training Basics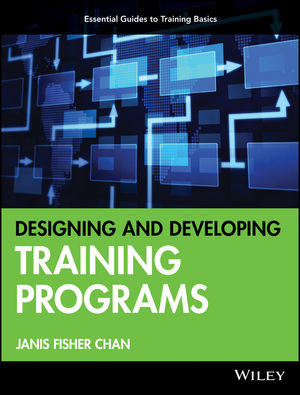 Designing and Developing Training Programs: Pfeiffer Essential Guides to Training Basics
ISBN: 978-0-470-40469-0 December 2009 Pfeiffer 304 Pages
Description
Designing and Developing Training Programs is filled with practical information, best practices, and proven strategies. This book will help both new and experienced trainers design and develop training programs that achieve results for both individuals and their organizations while meeting the challenges of today's fast-paced, rapidly changing learning environment. Created to be easy-to-use, Designing and Developing Training Programs covers a wide range of topics, including how to:
Ensure that training is needed, relevant, and cost-effective

Analyze the needs and characteristics of the audience

Write behavioral learning

Select the right content and design activities that help people learn

Develop effective learning materials

Create a program evaluation

Design virtual and remote training programs
Praise for Designing and Developing Training Programs
"Janis Fisher Chan is truly a master designer, having an uncanny ability to help people to truly think. Her book is of real service to anyone in the field of training."
—Manfred Kets de Vries, Raoul de Vitry d'Avaucourt Chaired Clinical Professor of Leadership Development and director, INSEAD Global Leadership Centre
"What makes Janis Chan's book so exceptional is the variety of challenging, content-related exercises that bring the concepts 'up close and personal' into the reader's life and work."
—Sharon Bowman, Author, Training from the BACK of the Room!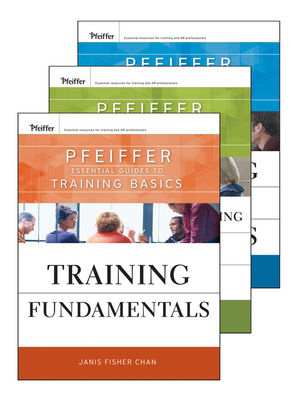 Buy Set of 1 Items
This item: Designing and Developing Training Programs: Pfeiffer Essential Guides to Training Basics
Purchased Together:$140.00
Table of contents
INTRODUCTION.
1. THE TRAINING PLAN.
1. Why You Need a Plan.
2. Planning Instructional Programs.
3. What to Consider When Using ADDIE.
What's Next?
2. ANALYZING THE SITUATION.
1. What's a Needs Assessment?
2. Gathering Information.
3. Analyzing the Information.
4. Consider the Stakeholders.
5. Consider the Learners.
6. Identifying Constraints and Other Factors That Impact the Training Program Design.
7. Determine Who Should Be Involved in Designing the Training Program.
8. Design It or Buy It?
What's Next?
3. WRITING LEARNING OBJECTIVES.
1. Why Learning Objectives Matter.
2. What a Learning Objective Should Be.
3. What Makes a Learning Objective Useful?
4. How to Develop Learning Objectives.
5. Enabling Objectives.
What's Next?
4. CHOOSING THE DELIVERY METHOD.
1. Overview of Training Delivery Methods.
2. Characteristics of Common Delivery Methods.
3. How to Choose a Delivery Method.
What's Next?
5. IDENTIFYING CONTENT.
1. A Learner-Centered Approach to Content.
2. Nice-to-Know vs. Must-Know Content.
3. How to Identify Content.
What's Next?
6. PLANNING THE LEARNING ACTIVITIES.
1. What to Consider About Activities.
2. Components of an Experiential Learning Activity.
3. Types of Activities.
What's Next?
7. STRUCTURING A TRAINING PROGRAM.
1. What's Involved in Structuring a Training Program.
2. Determining the Sequence.
4. Planning the Opening and the Closing.
5. Checking the Timing.
6. Identifying Visuals, Media, and Training Aids.
7. Preparing a Preliminary Agenda.
What's Next?
8. DEVELOPING MATERIALS AND VALIDATING THE PROGRAM.
1. Using a Training Materials Work Plan.
2. Developing Participant Materials.
3. Developing Trainer Materials.
4. Developing the Slides
5. Identifying Materials for Activities.
6. Validating the Training Program.
What's Next?
9. EVALUATING THE RESULTS.
1. The Function of Evaluation.
2. Questions an Evaluation Needs to Answer.
3. How to Conduct an Evaluation.
What's Next?
10. DESIGNING DISTANCE LEARNING PROGRAMS.
1. Overview of Distance Learning Programs.
2. Deciding When and How to Use Distance Learning.
3. Design Principles for Virtual and Remote Training Programs.
Resources.
About the Author.
What's New
Designing and Developing Training Programs
covers a wide range of topics, including how to:
Ensure that training is needed, relevant, and cost-effective

Analyze the needs and characteristics of the audience

Write behavioral learning

Select the right content and design activities that help people learn

Develop effective learning materials

Create a program evaluation

Design virtual and remote training programs