Designing and Planning Programs for Nonprofit and Government Organizations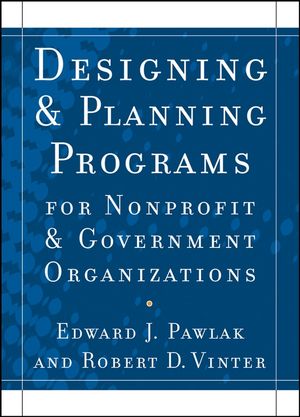 Designing and Planning Programs for Nonprofit and Government Organizations
ISBN: 978-0-787-97412-1
Aug 2004, Jossey-Bass
288 pages
Product not available for purchase
Description
Designing and Planning Programs for Nonprofit and Government Organizations is a comprehensive guide for practitioners who must carry out program planning projects in nonprofit or government human service organizations. Authors Edward J. Pawlak and Robert D. Vinter—experts in the field of program planning—show how planning is a goal-directed activity that will succeed when its tasks are carried out in orderly, progressive stages. In this important resource, the authors walk practitioners and students through the entire process from initiation to completion of planning projects and examine the relationship between planning, implementation, and program operations.
Tables, Figures, and Exhibits ix
Preface xi
The Authors xvii
PART ONE: PROGRAM PLANNING FUNDAMENTALS 1
1 Exploring the Nature of Program Planning 3
2 Determining Work Group Participants, Leadership, and Relationships 20
PART TWO: THE STAGES OF PROGRAM PLANNING 33
3 Initiating a Planning Project 37
4 Analyzing Problems and Assessing Needs 71
5 Setting Goals and Objectives 120
6 Laying the Foundation for a Successful Design 144
7 Developing the Essential Program Components 157
8 Documenting the Completed Program Plan 220
Conclusion 247
Resources for Planning Service Programs 255
References 258
Index 263
A guide for the successful initiation and completion of planning projects. 
Includes topics such as building support, initiating the planning process, analyzing needs and alternatives, setting goals and objectives, identifying and performing key design tasks, and documentation.
Provides a comprehensive guide to the planning process.
Contains illustrative case studies.
Offers a companion website that highlights additional case studies and tools for instructors.