Designing the Customer-Centric Organization: A Guide to Strategy, Structure, and Process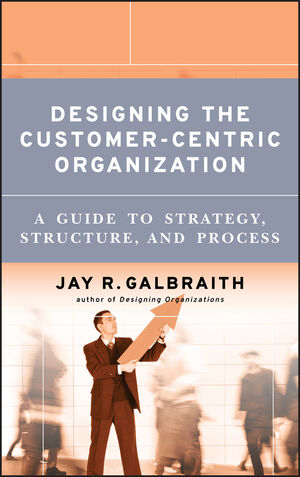 Designing the Customer-Centric Organization: A Guide to Strategy, Structure, and Process
ISBN: 978-1-118-04686-9 January 2011 Jossey-Bass 208 Pages
Description
Designing the Customer-Centric Organization offers todayâ??s business leaders a comprehensive customer-centric organizational model that clearly shows how to put in place an infrastructure that is organized around the demands of the customer. Written by Jay Galbraith (the foremost expert in the field of organizational design), this important book includes a tool that will help determine how customer-centric an organization is- light-level, medium-level, complete-level, or high-level- and it shows how to ascertain the appropriate level for a particular institution. Once the groundwork has been established, the author offers guidance for the process of implementing a customer-centric system throughout an organization. Designing the Customer-Centric Organization includes vital information about structure, management processes, reward and management systems, and people practices.
Table of contents
Preface.

The Author.

Introduction.

1. Surviving the Customer Revolution.

The Status Quo Has to Go.

The Customer-Centric Imperative.

The Rise of the Customer Dimension.

Strategy and Organization Model.

Conclusion.

2. Customer-Centricity: How Much Is Enough?

Customer Relationship Strategies.

The Strategy Locator.

Creating a Lateral Networking Capability.

Conclusion.

3. Light-Level Application.

Customer Lite.

Degussa Automotive Catalysts Division.

Learnings and Salient Features.

4. Medium-Level Application.

The Global Investment Bank Case.

Lessons from IBank.

5. Complete-Level Application.

Complex Solutions and Customer-Centric Organizations.

IBM.

Lessons Learned.

6. Alternate High-Level Solutions Companies.

Nokia Networks.

Procter & Gamble.

The Capability That Citibank Built.

How to Manage the Change Process.

Conclusion.

7. Designing a Customer-Centric Organization.

The Semiconductor Company.

Learnings and Salient Points.

8. Leading Through Management Processes.

Leading Strategic Change.

Linking Processes.

Reconciling Strategies.

Portfolio Planning and Solutions Development.

Opportunity Management Process.

Conclusion.

References.

Index.
Features
GALBRAITH: is well recognized name and his book, Designing Organizations, New & Revised has sold very well into Org Theory Courses (1600 copies to date)

CUSTOMER CENTRIC DESIGN: is a hot topic in organizational theory. This book combines the best thinking in organizational design with a customer focus.