Designing the Global Corporation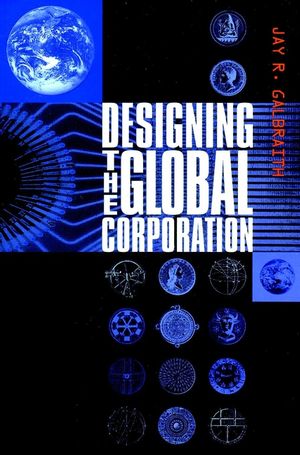 Designing the Global Corporation
ISBN: 978-0-787-95275-4 July 2000 Jossey-Bass 336 Pages
Description
If there's anything more challenging than designing a company, it's designing a global company. Balancing strategy and structure becomes even more daunting when geography, foreign governments, and worldwide customers and products are thrown into the mix. And no single design works for all organizations. In this book, internationally recognized expert Jay Galbraith shows companies how to match their own strengths and strategies with proven design options. Whether they're exporting their first product or already operating around the world, Galbraith gives companies the information they need to build flexible, global networks. And through real-world examples, he shows how successful international businesses are already navigating the global environment.
The Challenge of Organizational Complexity.

Organizing the Global Corporation.

Levels of International Development.

Partnering.

The Geographical Division.

Multidimensional Structures.

Coordination Across Networks.

Formal Cross-Border Networks.

Shifting Power Across the Network.

The Transnational Form.

The Multidimensional Multinational.

Organizing to Serve the Global Customer.

The Front-Back Hybrid Organization.

A Look Ahead.

Appendix.

References.

Index.
"Until now there has been no clear, useful approach to problems of global organization design. In Designing the Global Corporation, Jay Galbraith once again displays the insight and clarity of thought that has earned him his acknowledged position as the world's leading authority on organizational design."(William F. Joyce, professor, Tuck School of Business, Dartmouth College)

"Once again, Jay Galbraith presents nuggets of insight for any senior manager leading global organizations!"(Susan Bowick, vice president, human resources, Hewlett-Packard Company)

"In a time of growing complexity, Jay Galbraith provides concise and valuable insight into an issue that continues to puzzle managers the world over. A must-read for anyone with operational responsibility."(Helmut Maucher, chairman, Nestle S.A.)

"A landmark book in many respects. Key issues such as flat networks, project teams, power shifts, and serving the global customer are all covered with great insight."(Peter Lorange, president, International Institute for Management Development, Lausanne, Switzerland)

"The best reference source available on designing and making complex multinational organizations work."(Nathaniel Foote, organization design practice leader, McKinsey & Co.)

"A comprehensive guide to creating organisations that can successfully compete in the global arena." (Human Resources, February 2001)