Designing the Total Area Network: Intranets, VPN'S and Enterprise Networks Explained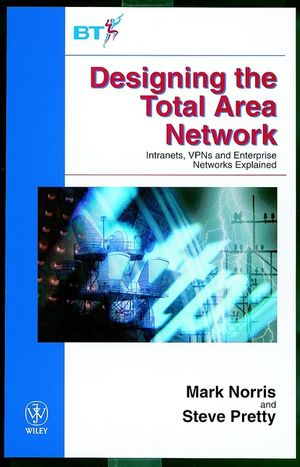 Designing the Total Area Network: Intranets, VPN'S and Enterprise Networks Explained
ISBN: 978-0-470-85341-2
Jan 2003
348 pages
Description
Tackles the many issues surrounding one of the most important assets in any company: its network. Modern networks need to be fast and effective to meet the ever-increasing need to for more information and faster communication. This text offers a clear and concise presentation of the key issues for those involved in the purchase, management, planning and implementation of communication networks. It provides the broad technical understanding required to ask the right questions, set viable plans and avoid expensive investment and deployment mistakes.

* Explains effective and practical design techniques for communication networks

* Advises how to avoid the common pitfalls associated with setting up and running a network

* Focuses on the techniques for planning and assembling network technology

* Presents numerous real examples

This is essential reading for network designers and will be recommended reading for students in computer science, electrical and electronic engineering and telecommunications courses.

Norris and Pretty tackle the many issues surrounding the design of one of the most important communication infrastructures in a company. The enterprise network needs to be fast and effective to meet an ever increasing demand for more information and communication. It provides broad technical understanding to aid those involved in the purchase, management, planning and implementation of enterprise networks. Effective and practical design techniques are explained in detail and are illustrated with real examples. It also discusses the associated pitfalls which often occur to show the reader what not to do when setting up a network.
The Enterprise.

The Basics of Networking Design.

Introducing the Enterprise Network Lifecycle and Design Process.

Requirements Gathering and Analysis.

Architectural and Physical Design.

Logical Design.

Operating the Network-Network Management Design.

Planning for the Future.

Verification, Validation, Testing and Operation.

A Case Study-Data Bank.

The Boldly Go...

Appendices.

Glossary.

Index.