Designing with Models: A Studio Guide to Architectural Process Models, 3rd Edition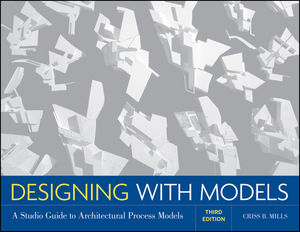 Designing with Models: A Studio Guide to Architectural Process Models, 3rd Edition
ISBN: 978-0-470-95080-7
May 2011
288 pages
Description
The newly updated guide to design process modeling techniques
Designing with Models, Third Edition is the revised, step-by-step guide to basic and advanced design process modeling. This comprehensive text explains the process from start to finish, and has been expanded to include up-to-date information on digital modeling programs and rapid prototyping processes. The impact of this new wave of 3D modeling technology is examined through interviews and numerous examples from renowned architects. Along with many new student projects, this new Third Edition features information on cutting-edge digital imaging equipment and design software, as well as many new process models from celebrated professional projects.
Architect Criss Mills acquaints architecture and design professionals with essential modeling terms, design processes, equipment, materials, and construction methods. Fully updated with nearly 200 new photos and twenty-six new projects from students and firms, Designing with Models, Third Edition walks readers through the basics of:
Material and tool selection

Construction techniques

Determining scale

Generating ideas

Exploring design processes and alternatives

Modifying design work directly on the model

Developing design work through modeling scale
Offering increased emphasis on transitioning from hand craft to digital craft, this thorough Third Edition also provides easy-to-follow guidelines for modeling with advanced tools and materials, demonstrating how to:
Master the modeling of curvilinear components with planar material and casting techniques

Explore ideas with mixed media, such as wood, found objects, metal rods and screens, clay, and Plexiglas

Work backwards from model information to produce 2D plan, section, and elevation drawings

Record and communicate 3D design work

Begin exploring the safe and effective use of power tools, such as belt sanders, table saws, drills, band saws, and welding equipment
Acknowledgments.
Foreword.
Introduction.
Model History.
Chapter 1. Model Types: Typical Model Types Employed in the Design Process.
Chapter 2. Exploration: A Framework for Conceiving and Using Models in the Design Process.
Chapter 3. Project Development: Academic Examples in Support of Exploration.
Chapter 4. Project Development in Practice: Design Firm Examples in Support of Exploration.
Chapter 5. Rapid Prototyping: Rapid Prototyping – Using Digital Information to Produce Physical Models.
Chapter 6. Digital Practice: Combining Digital and Physical Model Information in Professional Practice.
Chapter 7. Basic Assemblage: Basic Techniques for Assembling Model Components.
Chapter 8. Advanced Assemblage: Advanced Techniques for Form Making.
Chapter 9. Assemblage Case Studies: Step-by-Step Case Studies of Assembly Techniques.
Chapter 10. Tools: Equipment & Materials.
Appendix: Topics for Continuing Exploration.
Credits.