Desk Companion: How to Measure, Convert, Calculate and Define Practically Anything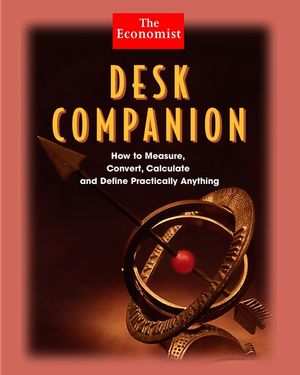 Desk Companion: How to Measure, Convert, Calculate and Define Practically Anything
ISBN: 978-0-471-24953-5 June 1998 280 Pages
Description
The Economist Desk Companion How to Measure, Convert, Calculate and Define Practically Anything Featuring 75 pages of quick-access charts and tables, The Economist Desk Companion provides every international measurement and definition anyone could possibly need for: Accounting • Agriculture • Chemistry • Computers • Economics • Electronics • Energy • Engineering • Finance • Fishing • Food and Drink • Forestry • Health • Light, Optics, and Photography • Mathematics • Minerals and Alloys • South and Music • Paper, Packaging, and Printing • Statistics • Space and Time • Textiles • Transport • Weapons It also features timesaving conversions and calculations of complicated sums such as: Annual percentage rates • Net present values • Percentage reversals • Conversions of square inches into square centimeters • Barrels of oil into tons • Pounds force per square inch into kilograms force per square centimeter With its wide-ranging subject matter and extraordinary detail, The Economist Desk Companion will be indispensable to anyone involved in international business, from students to personal investors to CEOs.
SYSTEMS OF MEASUREMENT.
Metric System.
United Kingdom.
United States of America.
A-Z OF DEFINITIONS, TERMS AND SPECIAL MEASUREMENTS.
Accountancy.
Agriculture, Forestry and Fishing.
Chemicals, Industrial.
Chemistry.
Computers.
Construction.
Country Codes and Currencies.
Economics.
Electronics.
Energy.
Engineering.
Finance.
Food and Drink.
Health.
Iron and Steel.
Light, Optics and Photography.
Mathematics and Statistics.
Minerals and Alloys.
Paper, Packaging and Printing.
Sound and Music.
Space, Time and the Earth.
Textiles.
Transport.
Weapons.
CONVERSION TABLES.
Summary.
Fractions to Decimals.
Percentage Reversals.
Length.
Area.
Areas of Circles from Radii.
Radii of Circles from Areas.
Volume and Capacity.
Weight (Mass).
Pressure and Stress.
Temperature: Celsius and Fahrenheit.
Agriculture, Fishing and Forestry.
Energy.
Engineering.
Finance.
Food and Drink.
Health.
Iron and Steel.
Textiles.
Transport.
Appendices.
Index.