Desktop Hosting: A Developer's Guide to Unattended Communications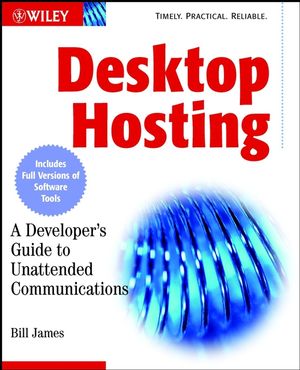 Desktop Hosting: A Developer's Guide to Unattended Communications
ISBN: 978-0-471-45524-0
Aug 2003
208 pages
Product not available for purchase
Description
The first practical guide to a revolutionary Web-based front office technology
A bold new Web paradigm in-the-making, desktop hosting empowers virtually anyone to control Web communications from their personal computer. The fully-automated communication services offered by desktop hosting provide companies with a powerful new tool to help drive sales, increase customer satisfaction, and guarantee 24/7 availability. Written by a principal at one of the major players defining the desktop hosting market, this book supplies technical and non-technical readers with a practical introduction to an exciting new technology. Readers learn how to use desktop hosting tools and get valuable pointers on how to implement an array of desktop hosting solutions.
CD-ROM contains full, unrestricted versions of WebClerk and CommerceExpert, along with 150 QuickTime training clips.
Acknowledgments.

Introduction.

PART I: WHY DESKTOP HOSTING?

Put the Point of Communications at the Point of Action.

Principles of Desktop Hosting.

Planning to Win.

Setting Up a Desktop Hosting Solution.

PART II: HOW DESKTOP HOSTING WORKS.

Getting a Project Funded, Keeping It Funded.

How to Manage and Adapt.

Case Studies.

PART THREE: GETTING STARTED WITH THE PROGRAMS.

Using the Tools.

Glossary.

Appendix.

Index.