Detail Process Charting: Speaking the Language of Process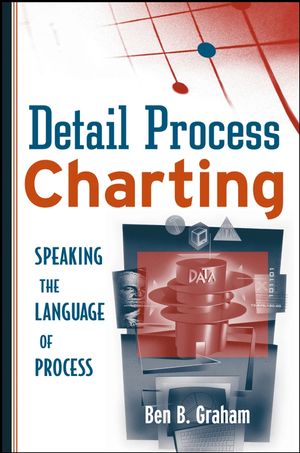 Detail Process Charting: Speaking the Language of Process
ISBN: 978-0-471-68086-4
Jul 2004
320 pages
Product not available for purchase
Description
Praise for Detail Process Charting
"A must-read for any competitive organization, Detail Process Charting: Speaking the Language of Process provides a comprehensive, yet clear, explanation of how to utilize one of the most powerful tools available to improve work processes. [Graham] has successfully integrated the history, success stories, and wisdom of those in the field who have applied this time-tested tool."
-Jim Denyes, Training Manager
Naval Occupational Safety and Health, and Environmental Training Center
Author, Work Smarter, Not Harder
"This book will be a valuable resource for all those interested in work simplification and its implementation. Excellent answers to the 'who,' 'what,' 'when,' 'how,' and 'why' of work simplification are provided in an understandable and very useful level of detail. Graham has obviously 'been there, done that.' "
-John A. Roberts III, Adjunct Professor
School of Business Administration, University of Dayton
"The keys to this approach . . . are the involvement of the workers and the simplicity of the charting approach. Even those participants who have never seen a process chart can almost instantly see how the process works, their role in it, and how it can be improved. This level of involvement means continuous buy-in, which significantly improves the chances of success. The emphasis on the document as the key process element and the ability to diagram the document to flow easily, rapidly, and clearly set this approach apart from all the others."
-Fredric D. Heilbronner, Director of Systems Consulting, eForms
Digital Consulting & Software Services, Inc.
"Much has been written about charting and business systems analysis, but I have not seen anything as comprehensive and clear as Ben Graham's book. Writing in simple, easy-to-follow language with plentiful illustrations and practical examples, this book takes the reader through the full spectrum of the charting process from initial analysis to managing charting libraries. This book is a must-have for all process improvement analysts and managers wanting to improve their organizational efficiency."
-Robert Barnett, Managing Director
Robert Barnett and Associates Pty. Ltd.
Foreword.
Preface.
Acknowledgments.
Chapter 1. Introduction
Why Should We Chart Our Processes?
Methodology Overview.
Chapter 2.  Who is Involved in Process Improvement.
Executive Oversight Team.
Process Improvement Group.
Process Improvement Projects.
Project Ownership: Transferring Responsibility.
Chapter 3. Defining a Process Improvement Project.
Select a Process to Study.
Secure the Approval and Support of the Process Owner.
State the Process and its Purpose.
Identify the Type of Project.
Establish Objectives.
Define the Scope.
Identify the Project Team Members.
Chapter 4.  Gathering the Facts…
Set the Stage.
Collect the Facts at the Work Area.
Interview Experienced Employees.
Be Genuine.
Capture the Facts.
Level of Detail.
Organize the Facts with a Process Flow Chart.
Chapter 5.  Process Chart Format.
Process Charts Flow Left to Right.
Every Item is Charted as a Separate Flow Line.
Process Charts Show the Interrelated Flows of Many Items.
Every Item is Labeled.
Actions and Nonaction Steps Are Indicated by Symbols Laid Out in Sequence. Along Each Flow Line.
Correction and Rejection Routines Are Shown with Dotted Lines.
Fundamental Nature of the Process Chart Format.
Chapter 6.  Process Chart Building Blocks.
Symbols: The Actions.
Conventions: Connecting the Symbols.
Words: Making the Charts Talk.
Chapter 7.  Charting Business Processes.
Paying for Gas with a Credit Card.
Charting an Online Auction Bid.
Purchase Requisition.
Processing Police Officer Overtime.
Special Situations.
Chapter 8. Using Process Charts.
Improving Processes with Projects.
Building a Process Library.
Continuous Improvement.
Training.
Library and Control.
Transparency.
Regulatory Requirements such as Sarbanes-Oxley.
Certification such as ISO.
Helping the Audit.
Establishing a Culture of Mastery.
Mastery.
Chapter 9. Process Chart Stories.
Allen Back.
Merle Laird.
Bill Roach.
Hector Piña.
Sharon Cunningham.
Todd Rigby.
Valerie Rausch.
Ben S. Graham, Jr.
Chapter 10. Summary.
Define a Project.
Capture the Facts.
Prepare an As-Is Chart.
Getting the Team Members Involved.
Build a Library of Process Charts.
Use the Charts.
Chapter 11. Conclusion.
Index.