Detecting Earnings Management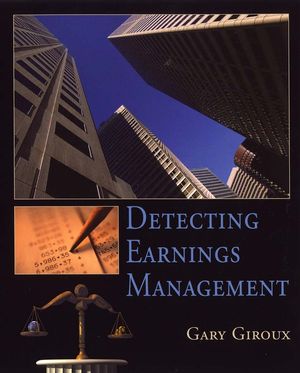 Detecting Earnings Management
ISBN: 978-0-471-47086-1
Nov 2003
336 pages
Description
This brief and timely text describes the current environment and provides practical details on specific earnings management potential. It shows students how aggressive earnings management can be detected, based on publicly available information. Throughout the text, the authors use multiple perspectives to enhance understanding of the material. Short cases in every chapter provide a "feel" for evaluating public data and analyzing earnings management potential.
Preface.
About the Author.
Acknowledgments. 
1. What is Earnings Management?
2. Companies in Trouble—A Historical Perspective.
3. What's in a Financial Report and What to Do with It?
4. The Balance Sheet.
5. The Income Statement, Part I—Level 1 Analysis.
6. The Income Statement, Part II—Expenses, Nonoperating Items.
7. Cash Flows and Alternative Definitions of the Bottom Line.
8. Evaluating Trends, Norms and Quarterly Data.
9. Business Combinations ad Related Issues.
10. Corporate Governance, Compensation, and Other Employee Issues.
11. Risk Management, Derivatives, and Special-Purpose Entities.
Appendix.
Glossary.
References.
Index.
The first section includes a thorough analysis of the current earnings management environment.
Earnings management concerns and detection strategies are presented for each topic, from revenue recognition to special purpose entities.
Appendix 1 features a complete earnings management detection sheet that summarizes all the issues raised in Chapters 1-10 and provides a complete example of detecting earnings management using a real-world company.
The final section reviews particularly difficult earnings management areas such as business combinations and compensation.
An historical perspective puts the current financial scandals and regulatory responses in perspective.
The importance of corporate governance as a signal of a potential manipulation environment is emphasized.
All the problems use Hilton Hotels, a service company, and compare it with competitors Marriott and Mandalay Resorts. These include both quantitative analysis and qualitative issues related to earnings management.
End-of-book materials include a glossary and a list of common financial ratios and other quantitative models.