Detraditionalization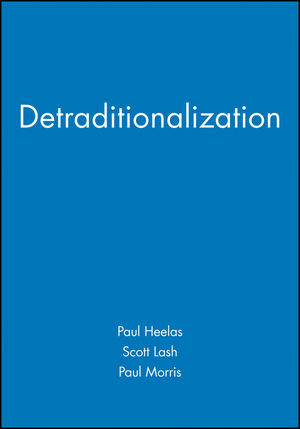 Detraditionalization
ISBN: 978-1-557-86555-7 January 1996 Wiley-Blackwell 360 Pages
Description
The modernity and postmodernity debates of recent years have tended to direct attention towards frameworks of periodization, and away from the social and cultural processes currently at work in the world. This volume reverses the emphasis, to focus on modes of authority and identity, and to examine the roles which existing and new traditions may play in our epoch. It announces a new agenda for contemporary social theory, moving beyond current debates over (post)modernity.
The contributors include Mark Poster, Richard Sennett, Ulrich Beck, Margaret Archer, Mary Douglas and Thomas Luckmann.
Preface.
1. Introduction: Detraditionalization and its Rivals: Paul Heelas.
Part I: Losing the Traditional:.
2. Individualization and 'Precarious Freedoms': Perspectives and Controversies of a Subject-Oriented Sociology: Ulrick Beck and Elisabeth Beck-Gernsheim.
3. Morality in the Age of Contingency: Zygmunt Bauman.
4. Complexity, Structural Contingencies and Value Conflicts: Niklas Luhmann.
5. The Privatization of Religion and Morality: Thomas Luckmann.
Part II: Detraditionalization and Traditions Today:.
6. Tradition and Self in a Mediated World: John B. Thompson.
7. Identity, Meaning and Globalization: Detraditionalization in Postmodern Space-Time Compression: Thomas W. Luke.
8. Detraditionalization and the Certainty of Uncertain Futures: Barbara Adam.
9. Detraditionalization, Character and the Limits to Agency: Colin Campbell.
Part III: Detraditionalization, Human Values and Solidarity: .
10. The Foreigner: Richard Sennett.
11. On Things not Being Worse and the Ethic of Humanity: Paul Heelas.
12. Community Beyond Tradition: Paul Morris.
13. Tradition and the Limits of Difference: Scott Lash.
Part IV: Dissolving Detraditionalization: .
14. Databases as Discourse, or Electronic Interpretations: Mark Poster.
15. Authority and Genealogy of Subjectivity: Nikolas Rose.
Index.
"Essential reading for any scholar interested in what it means to be modern today." David Ingram, Loyola University of Chicago
* The first book to address criticallly and culturally the theme of "detraditionalization" in modern and postmodern life.
* Sequel to Lash and Friedman's Modernity and Identity - over 5000 copies sold.