Deutsch für Alle: Beginning College German, 4th Edition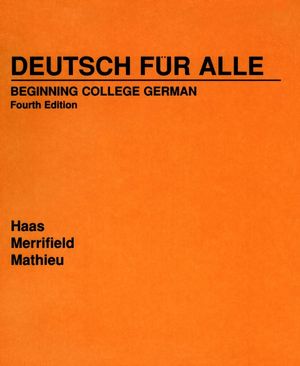 Deutsch für Alle: Beginning College German, 4th Edition
ISBN: 978-0-471-57381-4 March 1993 592 Pages
Description
Deutsch fur alle, Fourth Edition, is an integrated four-skills program for first-year college German. This Fourth Edition offers an eclectic approach to language instruction that balances communicative work aimed at fluency with the structural work necessary for building a solid foundation in grammar. Students will gain pride and self-confidence as they learn to communicate accurately and fluently in activities that are interesting, lively, and interactive.
Deutsch fur alle introduces grammar structures systematically; accompanying activities feature everyday occasions in which this grammar is most frequently and naturally used. Most exercises and activities can be practiced in pairs or small groups giving each student, no matter how large the class, maximum active-learning time.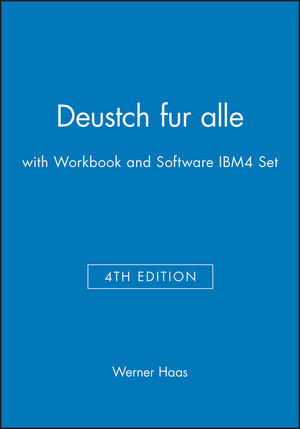 Buy Set of 1 Items
This item: Deutsch für Alle: Beginning College German, 4th Edition
Purchased Together:$227.95
Table of contents
* Wie heibt sie? Wie heibt er?
* Vielen Dank für die Auskunft
* Ich suche ein Zimmer
* Was Studenten fragen und sagen
* Verliebt, verlobt. . .
* Umweltschutz oder Umweltschmutz? Was müssen wir tun?
* Wir haben es nicht so eilig
* Wer war...? Was geschah...? Was machten...?
* Wie hältst du dich gesund?
* Ein Besuch beim Arzt
* Beim Einkauf: Wie gefällt dir das Kleid?
* Meine Mutter beim Friseur
* Bekommt Eberhard den Job?
* Sonntags essen wir im Restaurant
* Wunschliste für jung und alt
* Sie lachen über sich selbst
Features
Objectives
Communicative objectives are established at the beginning of each chapter and are listed along with the chapter's key points of grammar.
Dialog
Dialogues or short readings at the beginning of the chapter present everyday situations. Exercises follow the Dialog to help students understand the situation as well as to teach them how to communicate effectively in similar situations.
Grammatik
The grammatical structures highlighted in the dialogue material are carefully explained in the body of the chapter and are followed by practical activities that focus on oral mastery.
Lesestuck
A reading selection found at the end of the chapter incorporates the grammatical concepts of the chapter. The content of Lesestuck ranges from human interest stories to current events, and from cultural information to historic themes.
Schriftlich wiederholt
These written exercises are intended as a review of the chapter's grammatical structures and vocabulary. They are diversified and provide for both controlled and personal responses.