Devalued and Distrusted: Can the Pharmaceutical Industry Restore its Broken Image?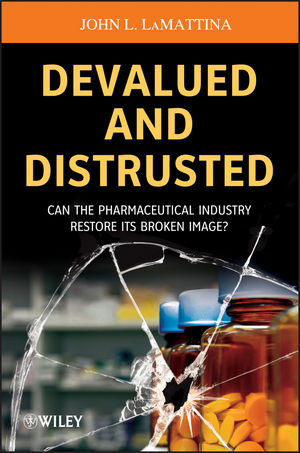 Devalued and Distrusted: Can the Pharmaceutical Industry Restore its Broken Image?
ISBN: 978-1-118-48747-1 January 2013 136 Pages
Download Product Flyer
Download Product Flyer
Download Product Flyer is to download PDF in new tab. This is a dummy description. Download Product Flyer is to download PDF in new tab. This is a dummy description. Download Product Flyer is to download PDF in new tab. This is a dummy description. Download Product Flyer is to download PDF in new tab. This is a dummy description.
Description
An expert's view on solving the challenges confronting today's pharmaceutical industry
Author John LaMattina, a thirty-year veteran of the pharmaceutical industry and former president of Pfizer's Global R&D Division, is internationally recognized as an expert on the pharmaceutical industry. His first book, Drug Truths: Dispelling the Myths About Pharma R&D, was critically acclaimed for clearing up misconceptions about the pharmaceutical industry and providing an honest account of the contributions of pharmaceutical research and development to human health and well-being.
As he toured the country discussing Drug Truths, Dr. LaMattina regularly came across people who were filled with anger, accusing the pharmaceutical industry of making up diseases, hiding dangerous side effects, and more. This book was written in response to that experience, critically examining public perceptions and industry realities.
Starting with "4 Secrets that Drug Companies Don't Want You to Know," Devalued and Distrusted provides a fact-based account of how the pharmaceutical industry works and the challenges it faces. It addresses such critical issues as:
Why pharmaceutical R&D productivity has declined
Where pharmaceutical companies need to invest their resources
What can be done to solve core health challenges, including cancer, diabetes, and neurodegenerative diseases
How the pharmaceutical industry can regain public trust and resuscitate its image
Our understanding of human health and disease grows daily; however, converting science into medicine is increasingly challenging. Reading Devalued and Distrusted, you'll not only gain a greater appreciation of those challenges, but also the role that the pharmaceutical industry currently plays and can play in solving those challenges.


Get to know the author: Read an interview with John LaMattina or watch a video on ChemistryViews!

Interview: John LaMattina: 30 Years in Pharma

Video: Can the Pharmaceutical Industry Restory its Broken Image?
Table of contents
ACKNOWLEDGMENTS ix
INTRODUCTION 1
CHAPTER 1 THE FOUR SECRETS THE DRUG COMPANIES DON'T WANT YOU TO KNOW 4
Drug Companies Underestimate Dangerous Side Effects 5
Drug Companies Control Much of the Information Your Doctor Gets 10
You're Often Prescribed Drugs That You Don't Need 14
Drugs Target the Symptoms, Not the Cause 19
Conclusion 22
References 23
CHAPTER 2 WHAT HAS HAPPENED TO R&D PRODUCTIVITY? 25
Impact of Mergers on R&D Productivity 26
Heightened FDA Requirements for NDAs 34
Higher Hurdles Set by Payers 41
Conclusion 46
References 48
CHAPTER 3 KEY THERAPEUTIC AREAS FOR IMPROVING HEALTH 49
Cancer 51
Diseases of the Brain 54
Cardiovascular Disease (CVD) 60
Diabetes 63
Bacterial Infections 65
Conclusion 68
References 69
CHAPTER 4 IMPROVING R&D OUTPUT 71
The Views of Others 72
Pharma's Blockbuster Mentality Needs to Change 72
Can "Predictive Innovation" Lead to Greater Success Rates? 76
Would Royalties Make Scientists More Productive? 78
Will Drug Repositioning Help Fill the R&D Pipeline? 80
Consultants Don't Always Have the Facts 82
Personal Views 84
Discovery Must Focus on Productivity 85
Does Size Help or Hinder R&D Productivity? 87
To Outsource or Not to Outsource? That's the Pharma R&D Question 89
Big Pharma Early Research Collaborations 92
Conclusion 93
References 95
CHAPTER 5 RESTORING PHARMA'S IMAGE 96
Illegal Detailing of Drugs 97
Pharmaceutical Companies Should Drop TV Ads 98
The Need for Greater Transparency 100
How Committed Is Big Pharma to Rare Diseases? 102
Pharmaceutical Companies and Philanthropy 104
Pharma Needs to Have Its Scientists Tell Their Stories 105
Conclusion 106
References 107
CHAPTER 6 FINAL THOUGHTS 109
References 114
INDEX 115
Reviews
"Oz should invite LaMattina back on his show.  Since LaMattina treats all concerns respectfully, Oz needn't worry about feeling devalued or distrusted."  (Barron's, 5 May 2014)
"This is an honest book by an insider who believes in the basic good that the industry does."  (The Quarterly Review of Biology, 1 September 2013)
"Summing Up:  Recommended.  General audiences."  (Choice, 1 September 2013)
"For those more loosely associated or aspiring to work with in it, I particularly recommend this book as a balanced and informative read on the pressures the industry faces. It should also provide the basis for more reasoned argument and forewarn anyone else potentially ambushed by a TV show."  (ChemMedChem, 19 July 2013)
"That said, the suggestions made by LaMattina for improvements in productivity and transparency are timely, and the book makes interesting if unexciting reading."  (Chemistry & Industry, 1 June 2013)
"John LaMattina (ex-head of Pfizer's global R&D) has a new book out about the industry, called Devalued and Distrusted.  He tells Pharmalot that he got the idea to write a sequel to his earlier book, Drug Truths, when he appeared on the "Dr. Oz" show."  (In The Pipeline, 1 December 2012)
Extra
Interview Read and interview with the author, John LaMattina. He talks to Jonathan Rose for ChemViews magazine about the changes and challenges he has seen in the pharma industry during his 30 years with Pfizer, some of the common misconceptions about drug companies, and how to change them.
Video
Watch a video with the author, John LaMattina, on ChemistryViews. He discusses his book Devalued and Distrusted: Can the Pharmaceutical Industry Restore its Broken Image?