Developing Democratic Character in the Young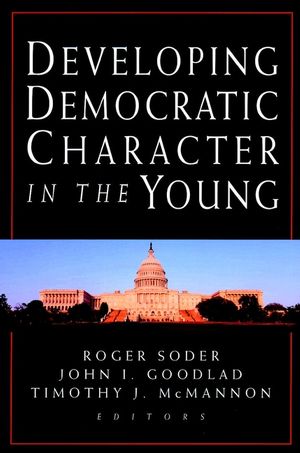 Developing Democratic Character in the Young
ISBN: 978-0-787-96000-1
Mar 2002
256 pages
Description
Sponsored by the Institute for Educational Inquiry
How are students going to function effectively in a democratic society? This collection of original essays outlines the critical role of our schools in helping create the conditions necessary for a democracy--and helping create in students the characteristics or dispositions critical to maintaining a democracy.
Foreword (T. McMannon)

Preface.

Acknowledgments.

The Editors.

The Contributors.

Convergence (J. Goodlad).

Education in a Political Democracy (R. Hoffert).

Democracy Education for More Than the Few (K. Staudt).

Making Democracy Real by Educating for an Ecocentric Worldview (S. Goodlad).

Democracy and Sustainable Economic Worldview (S. Goodlad).

Learning in Layers (M. Bateson).

Cognitive Aspects of Democratic Thinking (B. Csapo).

Public Schooling, Democracy, and Religious Dissent (N. Noddings).

Choice, the American Common School, and Democracy (J. Underwood).

Education for Democracy: The Foundation for Democratic Character (R. Soder).

Index.
""This is the one book on education to read now. Provocative essays launch critical issues that are widely ignored in the standard `education reform' and `character education' literatures. John Goodlad and his colleagues continue to push the boundaries of what it can mean to have public schools in democracy. Ecological understanding is brought, at last, to the forefront of thinking about education such that democratic character and our tenuous democratic experiment cannot be comprehended without it."" (Walter Parker, professor of education, University of Washington)

""Thoughtful and thought provoking, Developing Democratic Character in the Young reminds us that one of the most important reasons for public education is to preserve and strengthen our democracy."" (Anne L. Bryant, executive director, National School Boards Association)

""'Freedom can be won, but democracy must be learned' is an often-heard lament among patriots in the newly independent former communist states in Eastern Europe. By the same logic, maintaining democracy also hinges on learning and our public schools. Developing Democratic Character in the Young points to promising directions for achieving the key mission of America's society and public schools."" (Adam Urbanski, president, Rochester (N.Y.) Teachers Association, and a vice president of the American Federation of Teachers)