Developing External Partnerships for Cost-Effective, Enhanced Service: New Directions for Student Services, Number 96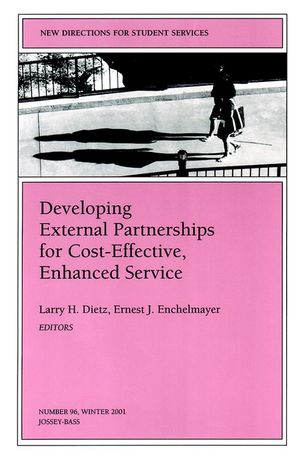 Developing External Partnerships for Cost-Effective, Enhanced Service: New Directions for Student Services, Number 96
ISBN: 978-0-787-95788-9
Jan 2002, Jossey-Bass
93 pages
Description
With growing expectations from students, parents, staff, faculty and the community for efficient and effective services on the campus, student affairs administrators are increasing their use of outsourcing arrangements and external partnerships to meet these demands. This volume offers a variety of models for the enhancement of services through external partnership, including on- and off-campus collaboration with public and private entities. It explores the challenges student affairs professionals face when determining how to meet a particular constituency's needs in the most cost-effective and efficient manner. A significant theme that emerges in this connection is the importance of structure in assessing and evaluating current levels of service. The ideas shared in this volume will assist decision-makers in the process of evaluating current services and determining whether and in what form external partnerships can improve those services for the benefit of the campus and the community.

This is the 96th issue of the quarterly report New Directions for Student Services.
EDITORS NOTES (Larry H. Dietz, Ernest J. Enchelmayer).

1. Partnering Through Outsourcing (Richard L. Palm).

2. Adventures in Outsourcing (Kimberly VanHorn-Grassmeyer, Kenneth L. Stoner).

3. Strategies for Effective Outsourcing (Larry Moneta, William L. Dillon).

4. Outsourcing--An English Perspective (Kenneth Hopkins).

5. The University as a Source for Communityand Academic Partnerships (Patricia E. Askew).

6. Summary, Conclusions, and the Future of ExternalPartnerships (Larry H. Dietz, Ernest J. Enchelmayer).

Index.