Developing Learner-Centered Teaching: A Practical Guide for Faculty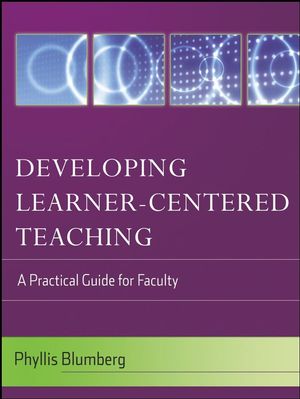 Developing Learner-Centered Teaching: A Practical Guide for Faculty
ISBN: 978-0-787-99688-8 October 2008 Jossey-Bass 352 Pages
Description
Developing Learner-Centered Teaching offers a step-by-step plan for transforming any course from teacher-centered to the more engaging learner-centered model. Filled with self-assessments and worksheets that are based on each of the five practices identified in Maryellen Weimer's Learner-Centered Teaching, this groundbreaking book gives instructors, faculty developers, and instructional designers a practical and effective resource for putting the learner-centered model into action.
Cannot be combined with any other offers.
Original Price:$88.00
Purchased together:$66.00
save $22.00
Cannot be combined with any other offers.
Original Price:$89.00
Purchased together:$66.75
save $22.25
Table of contents
Foreword by Maryellen Weimer.
List of Tables, Exhibits, and Boxes.
Preface.
Acknowledgments.
The Author.
Part I. TRANSFORMING TEACHING TO BE MORE LEARNER-CENTERED.
1. Introduction.
2. Understanding the Rubrics.
3. Tools for Facilitating Change and Assessment.
Part II. THE FIVE DIMENSIONS OF LEARNER-CENTERED TEACHING.
4. The Function of Content.
5. The Role of the Instructor.
6. The Responsibility for Learning.
7. The Purposes and Processes Of Assessment.
8. The Balance of Power.
Part III. DISCUSSION AND CONCLUSION.
9. Can All Courses Be Learner-Centered?
10. Strategies for Overcoming Obstacles and Resistance.
11. Summary and Conclusions.
References.
Appendix A. Glossary of Terms.
Appendix B. The Rubrics, the Planning for Transformation Exercise, and the Documentation to Support the Selected Status Form.
Appendix C. Development of the Rubrics.
References.
Index.
Reviews
"In this book, Blumberg encourages self-assessment and uses case studies throughout to immediately answer the question of just how to apply recommended techniques to classroom material. Blumberg's publication is a valuable contribution to learner-centered teaching because of her twenty-five years of experience and more than fifty publications, but also because of what she draws from others. Blumberg masterfully incorporates learner-centered methodologies into the workbook itself and this is probably what makes her book most effective. Although written primarily for faculty, advisors who believe the student learning process is integral to the advising relationship could especially benefit from this book… I found the case studies more than helpful and insightful and I believe that I will turn back to this text to apply learner-centered techniques to my own courses." —NACADA Journal, Issue 29(2)

"…if readers treat certain components of this book as a workbook and complete the activities while reading, Blumberg cleverly leaves them with a set plan for their course transformations and the lasting impression that they can overcome their own hesitation to change, as well as any other obstacles they may face. As a result, this practical and well-written book is recommended for all those who are willing to begin gradually shifting away from instructor-centered teaching towards a more learner-centered approach. This resource will be useful to a broad range of educators including instructors, faculty developers, administrators, and graduate students." —Kathleen Moore, Brock University, for Educational Developers Caucus