Developing Object Concepts in Infancy: An Associative Learning Perspective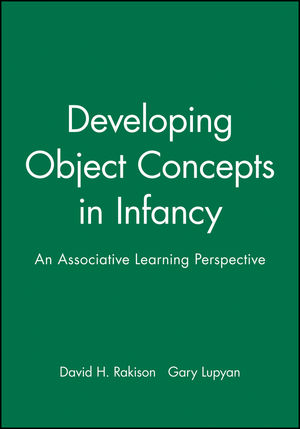 Developing Object Concepts in Infancy: An Associative Learning Perspective
ISBN: 978-1-405-18766-4
Apr 2008, Wiley-Blackwell
160 pages
Description
We present a domain-general framework called constrained attentional associative learning to provide a developmental account for how and when infants form concepts for animates and inanimates that encapsulate not only their surface appearance but also their movement characteristics. Six simulations with the same general-purpose architecture implement the features of the theory to model infant behavior in learning about objects' motion trajectory, their causal role, their onset of motion, and the initial mapping between a label and a moving object. Behavioral experiments with infants tested novel hypotheses generated by the model, showing that verbal labels initially may be associated with specific features rather than overall shape. Implications of the framework and model are discussed in relation to the mechanisms of early learning, the development of the animate–inanimate distinction, and the nature of development in the first years of life.
Abstract vii.
I. Introduction 1.
Ii. A connectionist model for early learning about.
Animates and inanimates 30.
Iii. Simulations 1a, 1b, and 1c: the role of moving parts.
In forming representations of objects 36.
Iv. Simulations 2a and 2b: the role of moving parts.
In forming representations of an object presented in.
A category context 53.
V. Learning initial mappings between labels and object features:.
Simulations and experiments with infants 59.
Vi. Simulation 4: a model of rakison, 2005a:.
Animacy relations in causal events 72.
Vii. Simulation 5: a model of rakison, 2006:.
Animacy relations in noncausal events 80.
Viii. General discussion 85.
Appendix 99.
References 101.
Acknowledgments 110.
Commentary.
Associationist learning as a basis of knowledge in infancy.
Lisa m. Oakes 111.
Encountering concepts in context.
Arlene s. Walker-andrews 120.
Contributors 128.
Statement of editorial policy 129


Discusses mechanisms of early learning, the development of the animate–inanimate distinction, and the nature of development in the first years of life

Behavioral experiments with infants test novel hypotheses