Developing and Measuring Training the Six Sigma Way: A Business Approach to Training and Development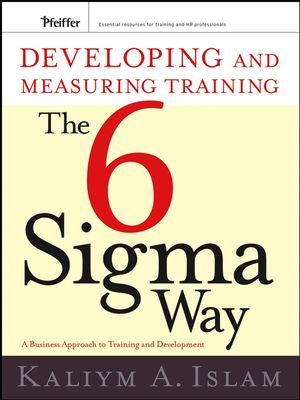 Developing and Measuring Training the Six Sigma Way: A Business Approach to Training and Development
ISBN: 978-0-787-98533-2
Sep 2006, Pfeiffer
256 pages
Description
This important resource translates the popular Six Sigma methodologies, tools, and techniques in a way that is customized specifically for the design,   implementation, and measurement of employee development programs. A proven alternative to the Kirkpatrick Model, this new model offers a more effective method for designing and testing the effectiveness of training.  Throughout the book, the author presents tools in a user-friendly and understandable format that is tailored for implementation in the development and measurement of employee learning programs. Step-by-step, Developing and Measuring Training the Six Sigma Way walks the reader through the highly effective and proven DMADDI™ process.
Figures, Tables, and Exhibits.
Foreword, by Edward A. Trolley.
Preface.
Acknowledgments.
Introduction.
PART ONE: THE BACKGROUND.
1 Why ISD Has Difficulty Addressing Business Issues.
What Is ISD?
History of ISD.
ISD Models.
Summary.
2 What Is Six Sigma?
Six Sigma Defined.
The History of Six Sigma.
Six Sigma in the Training World.
Important Six Sigma Concepts.
Six Sigma Models.
The Six Sigma Organization.
Shortcomings of Six Sigma.
Summary.
3 Reasons for a Six Sigma Methodology.
True Return on Investment.
When ISD Is Used as a Development Methodology.
The Solution.
Benefits of a Six Sigma Approach.
Determining Which Six Sigma Model to Use.
Summary.
PART TWO: DMADDI.
4 A DMADDI Overview.
The DMADDI Model.
Evaluation in DMADDI.
Project Organizational Structure.
Summary.
5 Define: What Are the Business Requirements?
Why a Separate Phase for Business Analysis?
Define Step 1: Form a Business Review Team.
Define Step 2: Develop and Validate the Project Charter.
Define Step 3: Complete the Define Tollgate.
DMADDI Tools for Define.
Summary.
6 Measure: What Targets Do We Need to Meet?
The Honeymoon Is Over.
DMADDI Road Map.
Measure Step 1: Identifying Business Requirements.
Measure Step 2: Prioritizing Business Requirements.
Measure Step 3: Translating Business Requirements into Measurable Targets.
It's All in the Translation.
Measure Step 4: Complete the Measure Tollgate.
Measure Step 5: Transfer Requirements to the Development Team.
DMADDI Tools for Measure.
Summary.
7 Analyze: What Needs to Be Learned?
DMADDI Road Map.
Analyze Step 1: Assembling a Design Team.
Analyze Step 2: Identifying What Needs to Be Learned.
Analyze Step 3: Validating and Prioritizing What Needs to Be Learned.
Analyze Step 4: Complete the Analyze Tollgate.
DMADDI Tools for Analyze.
Summary.
8 Design: How Should We Teach It?
DMADDI Road Map.
Design in ISD.
Design in DMADDI.
Design Step 1: Identify the Learning Platform.
Design Step 2: Convert Objectives into Learning Activities.
Design Step 3: Create a Communication Tool.
Design Step 4: Identify Development Resources.
Design Step 5: Complete the Design Tollgate.
DMADDI Tools for Design.
Summary.
9 Develop: Does Our Prototype Match Our Design?
DMADDI Road Map.
Develop Step 1: Identifying the Factors.
Develop Step 2: Developing Controls.
Develop Step 3: Validating the Outputs of the Develop Phase.
Develop Step 4: Complete the Develop Tollgate.
DMADDI Tools for Develop.
Summary.
10 Implement: Did the Implementation Meet Business and Instructional Requirements?
DMADDI Road Map.
Implement in ISD.
Implement in DMADDI.
A Brief Recap.
What Happens in the Implement Phase.
Implement Step 1: Revisit the Project Requirements.
Implement Step 2: Validate the Perspective of the Stakeholders.
Implement Step 3: Gather and Analyze Project Data.
Implement Step 4: Develop a Reporting Action Plan.
Implement Step 5: Prepare Presentation and Update Storyboard.
Implement Step 6: Complete the Implement Tollgate.
Implement Step 7: Celebrate.
A Final Word.
DMADDI Tools for Implement.
Summary.
11 If Not Us, Who? If Not Now, When?
PART THREE: A DMAIC CASE STUDY.
12 E-Learning the Six Sigma Way.
The Background.
The Organizational Structure.
What's Important? The Define Phase.
How Are We Doing? The Measure Phase.
What's Wrong? The Analyze Phase.
What Do We Need to Do? The Improve Phase.
How Do We Guarantee Performance? The Control Phase.
A Final Thought.
References.
Index.
About the Author.