Development: A Cultural Studies Reader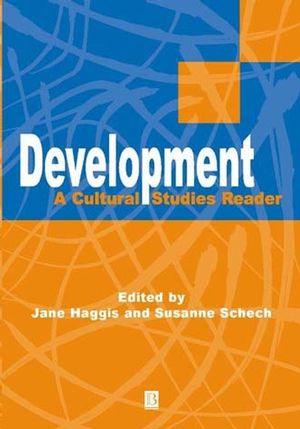 Development: A Cultural Studies Reader
ISBN: 978-0-631-21916-3
Jun 2002, Wiley-Blackwell
392 pages
Description
This book of readings gathers together some of the most influential contributions that reflect on the relationship between culture and development.
Acknowledgments.
Introduction: Pathways to culture and development: Jane Haggis and Susanne Schech.
Part I: Modernizing Cultures:.
1. The Grocer and the Theif: A Parable: Daniel Lerner.
2. Modernization Ideals: Gunnar Myrdal.
3. A Universal Civilization? Modernization and Westernization: Samuel P Huntington.
4. Divided Market Cultures in China. Gender, Enterprise and Religion: Robert P Weller.
Part II: Culture/Power/Knowledge:.
5. Orientalism: Edward W Said.
6. The West and the Rest: Discourse and Power: Stuart Hall.
7. Black Bodies, White Bodies: Toward an Iconography of Female Sexuality in Late Nineteenth Century: Sander L Gilman.
Part III: Development as Discourse:.
8. The Problematisation of Poverty: The Tale of Three Worlds and Development: Arturo Escobar.
9. The Constitution of the Object of "Development" - Lesotho as a "Less Developed Country": James Ferguson.
10. Becoming a Development Category: Nanda Shrestha.
11. Knowledge for Development: The World Bank.
Part IV: Development Culture and Human Rights:.
12. Universalism, Particularism and the Question of Identity: Ernesto Laclau.
13. Human Rights as Cultural Practice: Ann Belinda Preis.
14. Women's Rights, Human Rights and Domestic Violence in Vanuatu: Margaret Jolly.
Part V: Global/Local:.
15. Disjuncture and Difference in the Global Cultural Economy: Arjun Appadurai.
16. Capitalisms, Crises and Cultures II: Notes on Local Transformation and Everyday Cultural Struggles: Alan Pred.
17. Narratives of Masculinity and Transnational Migration: Filipino Workers in the Middle East: Jane A Margold.
18. Learning to be Local in Belize. Global Systems of Commom Difference: Richard Wilk.
Part VI: Place and Space:.
19. Geography as Destiny: Cities, Villages and Khmer Rouge Orientalism: Kevin McIntyre.
20. Contesting Cultures: Westernization, Respect for Cultures and Third-World Feminists: Uma Narayan.
21. Gender, Place and Networks. A Political Ecology of Cyberculture: Arturo Escobar.
22. Maya Hackers and the Cyberspatialized Nation-State: Modernity, Ethnostalgia and a Lizard Queen in Guatemala: Diane M Nelson.
23. CyberResistance: Saudi Opposition Between Globalization and Localization: Mamoun Fandy.
Part VII: Multiple Modernities:.
24. The Invention of Tradition Revisited: The Case of Colonial Africa: Terence Ranger.
25. Contentious Traditions: The Debate of Sati in Colonial India: Lata Mani.
26. "When the Earth is Female and the Nation is Mother". Gender, the Armed Forces and Nationalism in Indonesia: Saraswati Sunindyo.
27. The Objects of Soap Opera: Egyptian Television and the Cultural Politics of Modernity: Lila Abu-Lughod.
28. The Credible and the Credulous: The Question of "Villagers' Beliefs" in Nepal: Stacy Leigh Pigg.
29. Modernizing the Malay Mother: Maila Stivens.
Index.
"Schech and Haggis' collection is a very good starting point for those interested in teaching and researching the culture and development." South African Geographical Journal


Gathers together key readings on the major themes in the study of development and culture.


Structured clearly and supported by editorial material in order to aid teaching.


Can be used alongside Culture and Development: A Critical Introduction (Blackwell Publishers, 2000).