Development Economics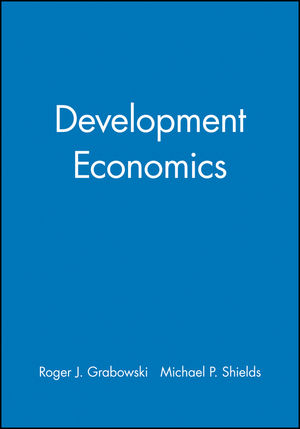 Development Economics
ISBN: 978-1-557-86706-3 May 1996 Wiley-Blackwell 312 Pages
Description
Development Economics is designed for advanced undergraduate economic development and international economics course.
The text is exceptional in that it provides more continuity between the methods of development economics and other fields of economics.
The text is a framework for the study of development theory. Because development theory is based on the microeconomics of household and firm choice, students will be familair with the methods of economics used. It also illustrates extensions of standard economic theory to development economics using graphical and mathematiclal expositions.
Table of contents
1. Growth and Development: Some Views.
Historical Theories of Development.
The Classic Theory.
Keynesian Growth Models.
The Neoclassical Model.
The New Growth Economics.
Conclusion.
Notes.
2. A Unifying Theme.
Rationality: Individual Choice.
Rationality: Household Choice.
Extensions of Rationality: A Sociology of Choice.
Limitations of Rationality.
The Development Process.
Conclusion.
Notes.
3. The Traditional Sector and Development.
The Traditional Sector.
Market Integration and Transaction Costs.
Development by Displacement.
Traditional Sector Development.
Historical Illustrations.
Land Tenancy.
Technological Change.
Traditional Sector: Manufacturing.
Distorted Development.
Conclusion.
Notes.
4. Fertility and Population.
Malthus and Malthusianism.
Transition Theory.
Endogenous Population Growth Models (Neo-Malthusian).
Economic Theories.
Proximate Determinants Approaches.
Morality.
Conclusion.
Appendix.
Notes.
5. Labor.
Unemployment.
Migration.
Efficiency Wage Models.
Appropriate Technique and Appropriate Technology.
Education.
Conclusion.
Notes.
6. Public Economics.
Welfare Economics and Consumer Surplus.
Shadow Prices: Valuing Outputs and Inputs.
Cost-Benefit Analysis.
Public Revenues.
Conclusion.
Notes.
7. International Trade.
Traditional Perspective.
Protectionist Arguments.
Results of Import Substitution.
Conclusion.
Notes.
8. The State.
Concerning Market Imperfections.
Protecting Ruling Coalitions.
Fostering Development and Institutional Change.
Conclusion.
Notes.
Index.
Features
* More analytical than the competition.
* Contains most comprehensive citations of recent literature.
* Abundance of Japanese examples which provide a global distinction.
* Presents rational decision making as an organizational framework.
* Uses mathematical and graphical methods to explain theory.
* Includes a comprehensive treatment of population and development and the theory of state and development.