Development Effectiveness: Strategies for IS Organizational Transition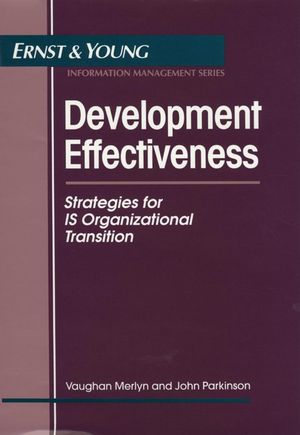 Development Effectiveness: Strategies for IS Organizational Transition
ISBN: 978-0-471-58954-9
Mar 1994
408 pages
Description
Explains how companies can productively use development effectiveness, an offshoot of total quality management, to ease problems regarding changing technologies in the information services organization by providing tools for change while still creating high-performance IS organizations. Contains proven implementation steps for planning and managing IT transitional processes along with the instruments relevant to measure the IS organization's current position, readiness for and ability to change.
THE CURRENT STATE OF IS DEVELOPMENT AND POINTERS FOR THE FUTURE.

How We Got Here--Information Systems Development and Attempts to Improve Performance.

Leading Practices--And Where They Still Fall Short.

Characteristics of High-Performance IS Organizations.

KEY ISSUES IN ORGANIZATIONAL TRANSITION.

Total Quality and Process Orientation in Information Systems Development.

Organizational Design for Systems Delivery Effectiveness.

Why the Management of Change Matters.

Commitment and Justification.

A FRAMEWORK FOR TRANSITION.

Getting Ready.

Planning for and Managing Transition.

Transition Through Action: The Pathfinder Process.

Living with the Future: Internalizing Continuous Improvement.

References and Bibliography.

Index.