Development and Cultural Change: Reciprocal Processes: New Directions for Child and Adolescent Development, Number 83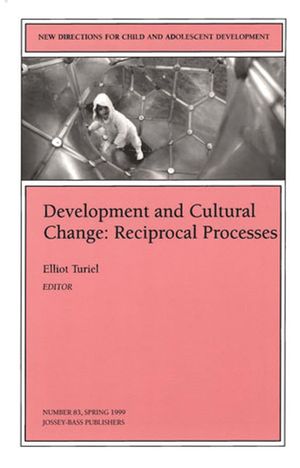 Development and Cultural Change: Reciprocal Processes: New Directions for Child and Adolescent Development, Number 83
ISBN: 978-0-787-99845-5
Apr 1999, Jossey-Bass
97 pages
Description
This volume of New Directions for Child and Adolescent Development examines the reciprocal interaction between individual development and cultural change--showing how participation in culture involves not only acceptance of shared values and practices, but also conflicts, contested meanings, and change. The authors reveal how the processes of learning and transmission evolve along with the culture over time, describing, for example, how diversity in educational philosophy and practices in Japanese preschools have arisen from a so-called homogeneous culture. The authors also demonstrate how long-term historical change always includes both progress and regression, and explain how individuals in positions of power carry multiple perspectives on the culture that lead to conflict and, ultimately, to change.

This is the 83rd issue of the quarterly journal New Directions for Child and Adolescent Development.
The Cognitive Context of Historical Change: Assimilation, Accommodation, and the Segmentation of Competence (W. Edelstein).
Cognition, Development, and Cultural Practices (G. Saxe).
Cultural Change and Human Development (P. Greenfield).
Divergent Cultural Models of Child Rearing and Pedagogy in Japanese Preschools (S. Holloway).
Conflict, Social Development, and Cultural Change (E. Turiel).