Developmental Disorders: A Neuropsychological Approach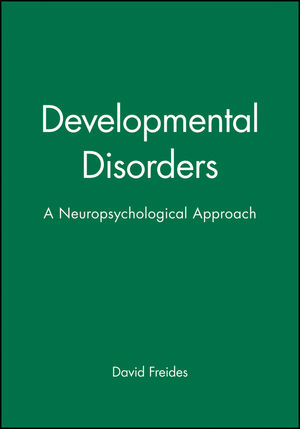 Developmental Disorders: A Neuropsychological Approach
ISBN: 978-1-557-86579-3
Jun 2001, Wiley-Blackwell
600 pages
Description
Many disabilities affecting children are caused by malfunctions in the brain or nervous system. David Freides introduces students to the study of these malfunctions, assuming no prior knowledge of neuropsychology.
Preface.
Part I: Orientation to the Way the Brain Functions:.
1. Introduction: Some General Principles.
2. Neurons: Building Blocks of the Nervous System.
3. The Development and Structure of the Brain.
4. Operational Characteristics of Neural Systems.
5. How the Brain Functions.
6. Constitutional Vulnerabilities during Development.
7. Psychopathology Inducing Experience and Handicap Dynamics.
Part II: Disorders of State: .
8. Ictal Disorders: Epilepsy, Seizures, and Related Disorders.
9. Disorders of Sleep and Arousal.
10. Attention and its Disorders.
Part III: Disorders of Specific Modalities: .
11. Disorders of the Motor System.
12. The Visual System and its Disorders.
13. Hearing, Language, and their Disorders.
Part IV: Disorders Involving Several Modalities: .
14. Academic and Social Learning Disabilities.
15. Childhood Psychoses.
16. Acquired Brain Damage.
17. Mental Retardation.
Postscript.
Glossary.
References.
Index.
"David Freides has provided an extensive, well-organised and well-written textbook in the field of developmental disorders ... the author has, to a large extent, succeeded in providing an informative textbook, given the aim and premises he outlines in the introduction."
Bjente Gjaerum, Oslo, European Child & Adolescent Psychiatry, Vol. 11, 2002
"A particular strength of this text is Freides's teaching style. He is careful to define terms for the reader, to illustrate the source of these terms, and then, typically, provide a behavioral example of what is being discussed ... He is also very careful to present both the strengths and weaknesses of different conceptualizations of the putative causes of many of the behavioral problems presented by children with diverse disabilities ... As an introductory text, this work should attract a wide audience." Eileen B. Fennell, University of Florida, APA Review of Books, December 2003
* Introduces students to the burgeoning area of developmental neuropsychology.
* Assumes no prior knowledge of neuropsychological concepts.
* Written in a lively, engaging style.