Developmental Disorders of Language, 2nd Edition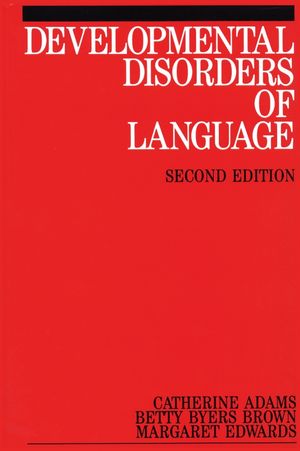 Developmental Disorders of Language, 2nd Edition
ISBN: 978-1-861-56020-9 March 1997 258 Pages
Description
Now published in a fully revised and updated second edition, this is an integrated and practical text for the student or the practising therapist. The authors take account of current models of language development and show the influence of these themes in relation to developmental language disorders. They also discuss current research into infant skills and emergent language and its influence on the early identification of language disorders. Drawing on their clinical experience, the authors consider at a practical level the role of the speech therapist/pathologist in the education of language handicapped children, the problems faced by speech therapists/pathologists in this area, and the strategies for intervention and management.
Table of contents
Preface to the Second Edition.
Chapter 1 Characterisation.
Chapter 2 Identification.
Chapter 3 Prevention.
Chapter 4 The Underlying Nature of Devlopmental Language Disorders - Hilary Gardner.
Chapter 5 The Differentiation of Clinical Subtypes.
Chapter 6 Assessment of Developmental Language Disorders - Hilary Gardner.
Chapter 7 The Nature and Timing of Intervention.
Chapter 8 Reflections and Future Developments.
References
Principal Tests Cited in Text.
Glossary.
Subject Index.
Author Index.