Developmental Psychopathology, 3rd Edition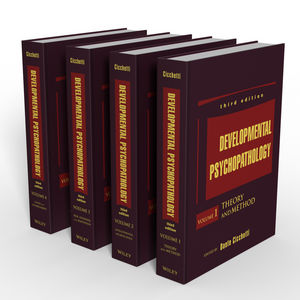 Developmental Psychopathology, 3rd Edition
ISBN: 978-1-118-12179-5
Jan 2016
4656 pages
Description
The field's most complete and authoritative reference, updated and expanded
Developmental Psychopathology is the most complete and up to date reference in the field, with contributions by leading researchers and clinicians from a broad array of disciplines, specialties, and perspectives. Edited by Dante Cicchetti, the McKnight Presidential Chair of Child Psychology in the Institute of Child Development and in the Department of Psychiatry, University of Minnesota, this new third edition has had a fourth volume added to reflect the growing body of knowledge that has been gained in the decade since the publication of the second edition. The increased emphasis on a multilevel, dynamic systems approach, and the latest neurobiological findings are explored alongside recent work and theories in epigenetics, neural plasticity, resilience, social and environmental influences, and more. From a lifespan-based perspective, this book examines the current level of understanding surrounding the development of mental disorders, as well as the mechanisms and processes that drive either their development or avoidance in high-risk individuals.
The previous edition of Developmental Psychopathology has served as an important resource for scientists and researchers working to increase our understanding of mental disorder development, prevention, and intervention. This new edition seeks to expand its usefulness by incorporating an even greater body of work that, together, represents the state of developmental psychopathology today.
Contains in four volumes the most complete and current research on every aspect of developmental psychopathology

Features contributions from national and international experts. The previous two editions have set the standard in the field; this is a highly respected and widely cited work

Every chapter has been updated or replaced completely with new material, incorporating the burgeoning number of neurobiological and genetic investigations in the field

Reflects the increasingly multilevel and interdisciplinary nature of the field and the increasing importance of translational research

Addresses the relevance of classification in a developmental context, including DSM-5 criteria and definitions

4 Volumes

Developmental psychology has seen many important new advances in the past decade, but there is still much work to be done. As an ever-expanding variety of disciplines become more and more relevant to advancing our understanding of mental disorders, a central compilation of watershed work becomes increasingly important. Developmental Psychopathology is the seminal reference researchers and clinicians need to stay up-to-date and push the boundaries of our understanding. This reference is available in print and in e-reference form (ISBN: 1119125553 9781119125556).
Volume 1: Theory and Method
Preface to Developmental Psychopathology, Third Edition xi
Dante Cicchetti
Contributors xiii
1 ASSESSMENT OF PSYCHOPATHOLOGY IN YOUNG CHILDREN 1
Margaret J. Briggs-Gowan, Leandra Godoy, Amy Heberle, and Alice S. Carter
2 DEVELOPMENTAL ISSUES IN ASSESSMENT, TAXONOMY, AND DIAGNOSIS OF PSYCHOPATHOLOGY: LIFE SPAN AND MULTICULTURAL PERSPECTIVES 46
Thomas M. Achenbach and Leslie A. Rescorla
3 DEVELOPMENTAL EPIDEMIOLOGY 94
E. Jane Costello and Adrian Angold
4 USING NATURAL EXPERIMENTS TO TEST ENVIRONMENTAL MEDIATION HYPOTHESES 129
Michael L. Rutter and Anita Thapar
5 DEVELOPMENTAL MODELS AND MECHANISMS FOR UNDERSTANDING THE EFFECTS OF EARLY EXPERIENCES ON PSYCHOLOGICAL DEVELOPMENT 156
Thomas G. O'Connor
6 EMOTIONAL SECURITY THEORY AND DEVELOPMENTAL PSYCHOPATHOLOGY 199
Patrick T. Davies, Meredith J. Martin, and Melissa L. Sturge-Apple
7 EMOTION AND THE DEVELOPMENT OF PSYCHOPATHOLOGY 265
Pamela M. Cole

8 ATTACHMENT AND DEVELOPMENTAL PSYCHOPATHOLOGY 325
R.M. Pasco Fearon, Ashley M. Groh, Marian J. Bakermans-Kranenburg, Marinus H. van IJzendoorn, and Glenn I. Roisman
9 AUTONOMY AND AUTONOMY DISTURBANCES IN SELF-DEVELOPMENT AND PSYCHOPATHOLOGY: RESEARCH ON MOTIVATION, ATTACHMENT, AND CLINICAL PROCESS 385
Richard M. Ryan, Edward L. Deci, and Maarten Vansteenkiste
10 ROOTS OF TYPICAL CONSCIOUSNESS: IMPLICATIONS FOR DEVELOPMENTAL PSYCHOPATHOLOGY 439
Philippe Rochat
11 I-SELF AND ME-SELF PROCESSES AFFECTING DEVELOPMENTAL PSYCHOPATHOLOGY AND MENTAL HEALTH 470
Susan Harter
12 PEER RELATIONS AND DEVELOPMENTAL PSYCHOPATHOLOGY 527
Mitchell J. Prinstein and Matteo Giletta
13 FAMILY SYSTEMS FROMA DEVELOPMENTAL PSYCHOPATHOLOGY PERSPECTIVE 580
Patricia K. Kerig
14 ADOLESCENT/YOUNG ADULT ROMANTIC RELATIONSHIPS AND PSYCHOPATHOLOGY 631
Joanne Davila, Deborah M. Capaldi, and Annette M. La Greca
15 WHAT CAN DYNAMIC SYSTEMS MODELS OF DEVELOPMENT OFFER TO THE STUDY OF DEVELOPMENTAL PSYCHOPATHOLOGY? 665
Michael F. Mascolo, Paul Van Geert, Henderien Steenbeek, and Kurt W. Fischer
16 A SURVEY OF DYNAMIC SYSTEMS METHODS FOR DEVELOPMENTAL PSYCHOPATHOLOGY 717
Isabela Granic, Tom Hollenstein, and Anna Lichtwarck-Aschoff
17 MISSING DATA 760
Todd D. Little, Kyle M. Lang, Wei Wu, and Mijke Rhemtulla
18 PERSON-ORIENTED APPROACHES 797
G. Anne Bogat, Alexander von Eye, and Lars R. Bergman
19 PERSON-SPECIFIC APPROACHES TO THE MODELING OF INTRAINDIVIDUAL VARIATION IN DEVELOPMENTAL PSYCHOPATHOLOGY 846
Michael J. Rovine and Peter C. M. Molenaar
20 CONFIGURAL FREQUENCY ANALYSIS FOR RESEARCH ON DEVELOPMENTAL PROCESSES 866
Alexander von Eye and Eun-Young Mun
21 MODERATION AND MEDIATION IN INTERINDIVIDUAL LONGITUDINAL ANALYSIS 922
Jennifer L. Krull, JeeWon Cheong, Matthew S. Fritz, and David P. MacKinnon
22 LATENT GROWTH MODELING AND DEVELOPMENTAL PSYCHOPATHOLOGY 986
Jungmeen Kim-Spoon and Kevin J. Grimm
23 INTEGRATIVE DATA ANALYSIS FOR RESEARCH IN DEVELOPMENTAL PSYCHOPATHOLOGY 1042
Eun-Young Mun, Yang Jiao, and Minge Xie
Author Index 1089
Subject Index 1125
Volume 2: Developmental Neuroscience
Preface to Developmental Psychopathology, Third Edition xi
Dante Cicchetti
Contributors xiii
1 EVOLUTIONARY FOUNDATIONS OF DEVELOPMENTAL PSYCHOPATHOLOGY 1
Marco Del Giudice and Bruce J. Ellis
2 DIFFERENTIAL SUSCEPTIBILITY TO ENVIRONMENTAL INFLUENCES 59
Jay Belsky and Michael Pluess
3 DIFFERENTIAL SENSITIVITY TO CONTEXT: IMPLICATIONS FOR DEVELOPMENTAL PSYCHOPATHOLOGY 107
Nicole R. Bush and W. Thomas Boyce
4 UNDERSTANDING DEVELOPMENTAL PSYCHOPATHOLOGY: HOW USEFUL ARE EVOLUTIONARY PERSPECTIVES? 138
James F. Leckman
5 ANIMAL MODELS OF DEVELOPMENTAL PSYCHOPATHOLOGY 166
Brittany R. Howell, Gretchen N. Neigh, and Mar M. Sánchez
6 THE ROLE OF EARLY NUTRITIONAL DEFICIENCIES IN THE DEVELOPMENT OF PSYCHOPATHOLOGY 202
Adam T. Schmidt, Erin A. Osterholm, and Michael K. Georgieff
7 QUANTITATIVE AND MOLECULAR BEHAVIORAL GENETIC STUDIES OF GENE–ENVIRONMENT CORRELATION 242
Sara R. Jaffee
8 THE TRILOGY OF G×E: CONCEPTUALIZATION, OPERATIONALIZATION, AND APPLICATION 287
Elena L. Grigorenko, Johanna Bick, Daniel J. Campbell, Gabrielle Lewine, Jennifer Abrams, Victoria Nguyen, and Joseph T. Chang
9 GENETICS AND FAMILY SYSTEMS: ARTICULATION AND DISARTICULATION 339
David Reiss
10 MOLECULAR GENETICS METHODS FOR DEVELOPMENTAL SCIENTISTS 378
Sergey A. Kornilov and Elena L. Grigorenko
11 EPIGENETIC MECHANISMS IN THE DEVELOPMENT OF BEHAVIOR 416
Kathryn Hill and Tania L. Roth
12 NEUROGENETICS APPROACHES TO MAPPING PATHWAYS IN DEVELOPMENTAL PSYCHOPATHOLOGY 442
Luke W. Hyde, Johnna R. Swartz, Rebecca Waller, and Ahmad R. Hariri
13 SELF-REGULATION AND DEVELOPMENTAL PSYCHOPATHOLOGY: EXPERIENTIAL CANALIZATION OF BRAIN AND BEHAVIOR 484
Clancy Blair, C. Cybele Raver, and Eric D. Finegood
14 ANXIETY REGULATION: A DEVELOPMENTAL PSYCHOPATHOLOGY PERSPECTIVE 523
Erin B. Tone, Cheryl L. Garn, and Daniel S. Pine
15 TYPICAL AND ATYPICAL BRAIN DEVELOPMENT ACROSS THE LIFE SPAN IN A NEURAL NETWORK MODEL OF PSYCHOPATHOLOGY 557
Barbara Ganzel and Pamela Morris
16 TYPICAL AND ATYPICAL HUMAN FUNCTIONAL BRAIN DEVELOPMENT 632
Michelle de Haan and Mark H. Johnson
17 THE NEURODEVELOPMENTAL PROCESS OF SELF-ORGANIZATION 654
Don M. Tucker, Phan Luu, and Catherine Poulsen
18 ADOLESCENT BRAIN DEVELOPMENT 684
Adriana Galván and Nim Tottenham
19 INTEGRATION OF DEVELOPMENTAL NEUROSCIENCE AND CONTEXTUAL APPROACHES TO THE STUDY OF ADOLESCENT PSYCHOPATHOLOGY 720
Kathryn C. Monahan, Amanda E. Guyer, Jennifer Silk, Tamara Fitzwater, and Laurence Steinberg
20 DEVELOPMENTAL SOCIAL NEUROSCIENCE 766
Jean Decety and Jason M. Cowell
21 STRESS NEUROBIOLOGY AND DEVELOPMENTAL PSYCHOPATHOLOGY 787
Noémie Jacoby, Judith Overfeld, Elisabeth B. Binder, and Christine M. Heim
22 PSYCHOPHYSIOLOGICAL METHODS AND DEVELOPMENTAL PSYCHOPATHOLOGY 832
Aimee R. Zisner and Theodore P. Beauchaine
23 NEURODEVELOPMENTAL THEORIES OF SCHIZOPHRENIA: TWENTY-FIRST CENTURY PERSPECTIVES 885
Kristen M. Haut, Ariel Schvarcz, Tyrone D. Cannon, and Carrie E. Bearden
24 NEUROPSYCHOLOGICAL AND STRUCTURAL NEUROIMAGING ENDOPHENOTYPES IN SCHIZOPHRENIA 931
William S. Stone and Larry J. Seidman
Author Index 967
Subject Index 1033
Volume 3: Maladaptation and Psychopathology
Preface to Developmental Psychopathology, Third Edition xi
Dante Cicchetti
Contributors xiii
1 DEVELOPMENTS IN THE DEVELOPMENTAL APPROACH TO INTELLECTUAL DISABILITY 1
Jacob A. Burack, Natalie Russo, Cathryn Gordon Green, Oriane Landry, and Grace Iarocci
2 FRAGILE X SYNDROME AS A MULTILEVEL MODEL FOR UNDERSTANDING BEHAVIORALLY DEFINED DISORDERS 68
Annette Karmiloff-Smith, Brianna Doherty, Kim Cornish, and Gaia Scerif
3 AUTISM SPECTRUM DISORDERS 81
Raphael Bernier and Geraldine Dawson
4 JOINT ATTENTION AND THE SOCIAL PHENOTYPE OF AUTISM SPECTRUM DISORDER: A PERSPECTIVE FROM DEVELOPMENTAL PSYCHOPATHOLOGY 116
Amy Vaughan Van Hecke, Tasha Oswald, and Peter Mundy
5 EXPLICATING THE "DEVELOPMENTAL" IN PRESCHOOL PSYCHOPATHOLOGY 152
Sara J. Bufferd, Margaret W. Dyson, Iseli G. Hernandez, and Lauren S. Wakschlag
6 THE DEVELOPMENT OF EMOTION REGULATION: IMPLICATIONS FOR CHILD ADJUSTMENT 187
Susan D. Calkins and Nicole B. Perry
7 INTERPERSONAL THEORIES OF DEVELOPMENTAL PSYCHOPATHOLOGY 243
Karen D. Rudolph, Jennifer E. Lansford, and Philip C. Rodkin
8 COGNITIVE RISKS IN DEVELOPMENTAL PSYCHOPATHOLOGY 312
Benjamin L. Hankin, Hannah R. Snyder, and Lauren D. Gulley
9 TRAUMATIC STRESS FROM A MULTILEVEL DEVELOPMENTAL PSYCHOPATHOLOGY PERSPECTIVE 386
J. Douglas Bremner
10 CHILDHOOD EXPOSURE TO INTERPERSONAL TRAUMA 425
Alicia F. Lieberman and Ann T. Chu
11 CHILD MALTREATMENT AND DEVELOPMENTAL PSYCHOPATHOLOGY: A MULTILEVEL PERSPECTIVE 457
Dante Cicchetti and Sheree L. Toth
12 A DEVELOPMENTAL PSYCHOPATHOLOGY PERSPECTIVE ON FOSTER CARE RESEARCH 513
Philip A. Fisher, Leslie D. Leve, Brianna Delker, Leslie E. Roos, and Bryna Cooper
13 MEMORY DEVELOPMENT, EMOTION REGULATION, AND TRAUMA-RELATED PSYCHOPATHOLOGY 555
Gail S. Goodman, Deborah Goldfarb, Jodi A. Quas, Rachel K. Narr, Helen Milojevich, and Ingrid M. Cordon
14 ATTENTION AND IMPULSIVITY 591
Joel T. Nigg
15 THE DEVELOPMENT AND ECOLOGY OF ANTISOCIAL BEHAVIOR: LINKING ETIOLOGY, PREVENTION, AND TREATMENT 647
Thomas J. Dishion and Gerald R. Patterson
16 NARCISSISM 679
Sander Thomaes and Eddie Brummelman
17 A MULTILEVEL PERSPECTIVE ON THE DEVELOPMENT OF BORDERLINE PERSONALITY DISORDER 726
Peter Fonagy and Patrick Luyten
18 ALCOHOL USE AND THE ALCOHOL USE DISORDERS OVER THE LIFE COURSE: A CROSS-LEVEL DEVELOPMENTAL REVIEW 793
Robert A. Zucker, Brian M. Hicks, and Mary M. Heitzeg
19 SUBSTANCE USE AND SUBSTANCE USE DISORDERS 833
Laurie Chassin, Craig R. Colder, Andrea Hussong, and Kenneth J. Sher
20 BIPOLAR DISORDER FROM A DEVELOPMENTAL PSYCHOPATHOLOGY PERSPECTIVE: FOCUSING ON PHENOMENOLOGY, ETIOLOGY, AND NEUROBIOLOGY 898
Bonnie Klimes-Dougan, Kevin P. Kennedy, and Kathryn R. Cullen
21 CHILDHOOD SCHIZOPHRENIA 950
Rochelle Caplan
22 MULTILEVEL APPROACHES TO SCHIZOPHRENIA AND OTHER PSYCHOTIC DISORDERS: THE BIOBEHAVIORAL INTERFACE 997
Elaine F. Walker, Arthur T. Ryan, Katrina C. Bridgman Goines, Derek M. Novacek, Sandra M. Goulding, Joy L. Brasfield, Allison Macdonald, and Hanan D. Trotman
23 TOWARD A UNIFYING PERSPECTIVE ON PERSONALITY PATHOLOGY ACROSS THE LIFE SPAN 1039
Jennifer L. Tackett, Kathrin Herzhoff, Steve Balsis, and Luke Cooper
24 TOWARD A DEVELOPMENTAL PSYCHOPATHOLOGY OF PERSONALITY DISTURBANCE: A NEUROBEHAVIORAL DIMENSIONAL MODEL INCORPORATING GENETIC, ENVIRONMENTAL, AND EPIGENETIC FACTORS 1079
Mark F. Lenzenweger and Richard A. Depue
Author Index 1111
Subject Index 1189
Volume 4: Risk, Resilience, and Intervention
Preface to Developmental Psychopathology, Third Edition ix
Dante Cicchetti
Contributors xi
1 CHILDHOOD ADVERSITY AND ADULT PHYSICAL HEALTH 1
Katherine B. Ehrlich, Gregory E. Miller, and Edith Chen
2 COMMUNITY VIOLENCE EXPOSURE AND DEVELOPMENTAL PSYCHOPATHOLOGY 43
Patrick H. Tolan
3 SOCIAL SUPPORT AND DEVELOPMENTAL PSYCHOPATHOLOGY 86
Ross A. Thompson and Rebecca Goodvin
4 POVERTY AND THE DEVELOPMENT OF PSYCHOPATHOLOGY 136
Martha E. Wadsworth, Gary W. Evans, Kathryn Grant, Jocelyn S. Carter, and Sophia Duffy
5 DETERMINANTS OF PARENTING 180
Marc H. Bornstein
6 RESILIENCE IN DEVELOPMENT: PROGRESS AND TRANSFORMATION 271
Ann S. Masten and Dante Cicchetti
7 VULNERABILITY AND RESILIENCY OF AFRICAN AMERICAN YOUTH: REVELATIONS AND CHALLENGES TO THEORY AND RESEARCH 334
Margaret Beale Spencer and Dena Phillips Swanson
8 SOCIAL INEQUALITIES AND THE ROAD TO ALLOSTATIC LOAD: FROM VULNERABILITY TO RESILIENCE 381
Robert-Paul Juster, Teresa Seeman, Bruce S. McEwen, Martin Picard, Ian Mahar, Naguib Mechawar, ShireenSindi, Nathan Grant Smith, Juliana Souza-Talarico, Zoltan Sarnyai, Dave Lanoix, Pierrich Plusquellec, Isabelle Ouellet-Morin, and Sonia J. Lupien
9 COMPETENCE AND PSYCHOPATHOLOGY IN DEVELOPMENT 435
Keith B. Burt, J. Douglas Coatsworth, and Ann S. Masten
10 THE DEVELOPMENT OF COPING: IMPLICATIONS FOR PSYCHOPATHOLOGY AND RESILIENCE 485
Melanie J. Zimmer-Gembeck and Ellen A. Skinner
11 TEMPERAMENT AND DEVELOPMENTAL PSYCHOPATHOLOGY 546
Cynthia Stifter and Jessica Dollar
12 INTERPARENTAL CONFLICT AND CHILD ADJUSTMENT 608
Ernest N. Jouriles, Renee McDonald, and Chrystyna D. Kouros
13 RELATIONAL AGGRESSION: A DEVELOPMENTAL PSYCHOPATHOLOGY PERSPECTIVE 660
Dianna Murray-Close, David A. Nelson, Jamie M. Ostrov, Juan F. Casas, and Nicki R. Crick
14 CULTURE, PEER RELATIONSHIPS, AND DEVELOPMENTAL PSYCHOPATHOLOGY 723
Xinyin Chen and Cindy H. Liu
15 CLASSROOM PROCESSES AND TEACHER–STUDENT INTERACTION: INTEGRATIONS WITH A DEVELOPMENTAL PSYCHOPATHOLOGY PERSPECTIVE 770
Robert C. Pianta
16 ADVANCES IN PREVENTION SCIENCE: A DEVELOPMENTAL PSYCHOPATHOLOGY PERSPECTIVE 815
Sheree L. Toth, Christie L. M. Petrenko, Julie A. Gravener-Davis, and Elizabeth D. Handley
17 CULTURALLY ADAPTED PREVENTIVE INTERVENTIONS FOR CHILDREN AND ADOLESCENTS 874
Nancy A. Gonzales, Anna S. Lau, Velma M. Murry, Armando A. Pina, and Manuel Barrera, Jr.
18 THE EFFECTS OF EARLY PSYCHOSOCIAL DEPRIVATION ON BRAIN AND BEHAVIORAL DEVELOPMENT: FINDINGS FROM THE BUCHAREST EARLY INTERVENTION PROJECT 934
Charles A. Nelson, Nathan A. Fox, and Charles H. Zeanah
19 PREVENTING SENSITIZATION AND KINDLING-LIKE PROGRESSION IN THE RECURRENT MOOD DISORDERS 971
Robert M. Post
20 MENTAL HEALTH STIGMA: THEORY, DEVELOPMENTAL ISSUES, AND RESEARCH PRIORITIES 997
Andres G. Martinez and Stephen P. Hinshaw
Author Index 1041
Subject Index 1109