Developmental Social Psychology: From Infancy to Old Age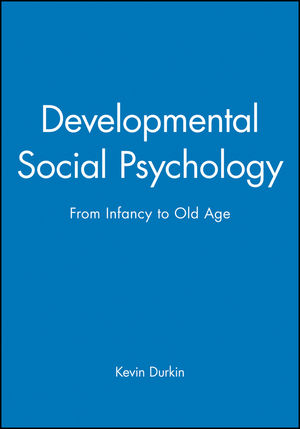 Developmental Social Psychology: From Infancy to Old Age
ISBN: 978-0-631-14829-6 December 1995 Wiley-Blackwell 832 Pages
Description
This book is the first to synthesise this exciting new area for undergraduates. Taking a topic-based approach, it emphasises the social contexts of development and the developmental aspects of social reasoning and social behaviour.
Table of contents
1. Introduction.
2. Social Life and Infancy.
3. Attachment to Others.
4. Family and Peers.
5. The Development of Gender.
6. Language Development I: Origins and Course.
7. Language Development II: Social Dimensions of Acquisition and Use.
8. The Development of Non-verbal Communication.
9. Social Cognition I: Understanding the Social World.
10. Social Cognition II: Social Reasoning and Societal Knowledge.
11. Social Cognition III: Social Interaction and Cognitive Development.
12. The Development of Aggression.
13. The Development of Prosocial Behaviour.
14. Moral Development.
15. Adolescence I: Transitions.
16. Adolescence II: Entering the Adult World.
17. Adolescence III: Problems.
18. Adulthood I: Development, Relationships and Roles.
19. Adulthood II: Middle Age and the Later Years.
Reviews
"This is an excellent book in many respects. It provides a detailed review of a wide range of issues of concern to developmental and social psychologists. It further provides a basis for a theoretical and methodological integration of these two branches of psychological investigation..... It is easily accessible, thoughtfully organized and clearly written. It will be of interest to teachers and researchers in these areas and will provide an invaluable sourcebook for students."
British Journal of Developmental Psychology
<!--end-->"... this book is notable for its strengths and remarkable as the work of one person. It is also an accurate reflection of a wide range of theory and research in basic developmental and social psychology and, especially, the points of intersection of those specialities." Contemporary Psychology

"All in all, Durkin's book constitutes a thorough, well-organized and impeccably referenced textbook... Developmental Social Psychology is an invaluable source for any undergraduate studying developmental psychology, and all the more so for the novel connections it invites the student to make between the social and developmental literature." BPS Developmental Psychology Section Newsletter, Spring 98

"Durkin's textbook provides a representative overview of the discipline, one which addresses developmental psychology's Achilles heel, the child's relation with the social world. Developmental Social Psychology belongs to that genre of core undergraduate textbooks with representative chapters on infancy, language, social cognition, adolescence, moral development, adulthood and old age, and I have little doubt that it will be hailed as a comprehensive introduction to developmental psychology with a social-psychological orientation." Michael A. Forrester, British Journal of Psychology
Features
* The first new survey of an important field for many years.
* Synthesises developmental and social psychology.
* Illustrated with many examples from a variety of cultures.