Developments in Block Copolymer Science and Technology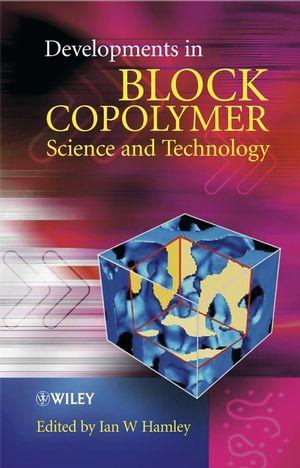 Developments in Block Copolymer Science and Technology
ISBN: 978-0-470-09394-8 July 2004 380 Pages
Description
Focuses on recent advances in research on block copolymers, covering chemistry (synthesis), physics (phase behaviors, rheology, modeling), and applications (melts and solutions). Written by a team of internationally respected scientists from industry and academia, this text compiles and reviews the expanse of research that has taken place over the last five years into one accessible resource.
Ian Hamley is the world-leading scientist in the field of block copolymer research

Presents the recent advances in the area, covering chemistry, physics and applications.

Provides a broad coverage from synthesis to fundamental physics through to applications
Examines the potential of block copolymers in nanotechnology as self-assembling soft materials
Table of contents
List of Contributors.
Preface.
1. Introduction to Block Copolymers (Ian W. Hamley).
2. Recent Developments in Synthesis of Model Block Copolymers using Ionic Polymerisation (Kristoffer Almdal).
3. Syntheses and Characterizations of Block Copolymers Prepared via Controlled Radical Polymerization Methods (Pan Cai-yuan and Hong Chun-yan).
4. Melt Behaviour of Block Copolymers (Shinichi Sakurai, Shigeru Okamoto and Kazuo Sakurai).
5. Phase Behavior of Block Copolymer Blends (Richard J. Spontak and Nikunj P. Patel).
6. Crystallization within Block Copolymer Mesophases (Yueh-Lin Loo and Richard A. Register).
7. Dynamical Microphase Modelling with Mesodyn (JG.E.M. Fraaije, G.J.A. Sevink and A.V. Zvelindovsky).
8. Self-consistent Field Theory of Block Copolymers (An-Chang Shi).
9. Lithography with Self-assembled Block Copolymer Microdomains (Christopher Harrison, John A. Dagata and Douglas H. Adamson).
10. Applications of Block Copolymer Surfactants (Michael W. Edens and Robert H. Whitmarsh).
11. The Development of Elastomers Based on Fully Hydrogenated Styrene–Diene Block Copolymers (Calvin P. Esneault, Stephen F. Hahn and Gregory F. Meyers).
Index.
Reviews
"The book is highly recommendable for graduate students and researchers in polymer science." (
TPE Magazine,
March 2010)
"This book would be ideal for any polymerist working in the field. It would also serve as a graduate level text on the subject." (
Materials & Manufacturing Processes
, June/July 2006)
"This book appears to be a useful and timely treatise discussing recent developments." (Polymer News)
"This volume aims to bring together significant recent advances on this topic…." (Apollit, 2005)