Developments in Dielectric Materials and Electronic Devices: Proceedings of the 106th Annual Meeting of The American Ceramic Society, Indianapolis, Indiana, USA 2004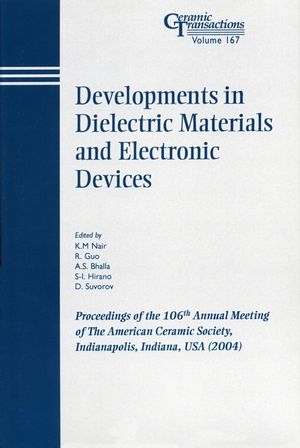 Developments in Dielectric Materials and Electronic Devices: Proceedings of the 106th Annual Meeting of The American Ceramic Society, Indianapolis, Indiana, USA 2004
ISBN: 978-1-118-40819-3
Apr 2012
416 pages
Description
Papers in this volume include topics such as materials synthesis and processing; relaxors; novel compositions; material design; materials for multilayer electronic devices; processing-microstructure-property relationship; applications; environmental issues; and economic/cost analysis of tomorrow's electronic devices. Includes 38 papers.
Materials Synthesis and Processing.

Relaxors.

Novel Compositions.

Material Design.

Materials for Multilayer Electronic Devices.

Processing-Microstructure-Property Relationship.

Applications.

Environmental Issues.

Economic/Cost Analysis of Tomorrow's Electronc Devices.