Developments in Rapid Casting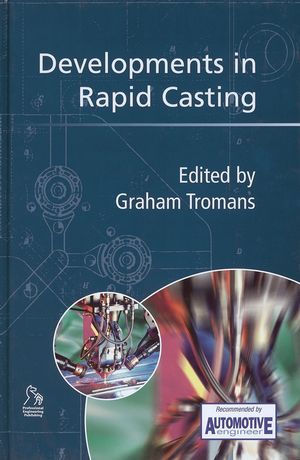 Developments in Rapid Casting
ISBN: 978-1-860-58390-2 January 2004 132 Pages
Description
Rapid Casting and its various techniques has fast become an indispensible part of modern manufacturing. Developments in rapid casting are the result of shorter lead-time demands just as increasingly shorter lead-time demands are the result of rapid casting. This cyclical relationship has meant that the exciting developments and evolution of rapid casting techniques is truly enduring. This important publication highlights the most up-to-date developments in rapid casting from academia and industry alike. Contributions from authoritative authors come together to form this comprehensive collection of discussions and case studies.
Table of contents
Overview of rapid casting processes.
Review of potential rapid tooling techniques for magnesium die-casting applications.
Rapid tooling for magnesium diecast components – an investigation into innovative technologies and processes for Ericsson Mobile Communications AB.
Rapid tooling for aluminium die-cast components – an investigation into EOS DMLS 20 µm tooling inserts for a 'clutch housing' for Dyson.
Rapid route for investment casting; The use of QuickCast™ and investment casting for the production of novel A-posts for a functional safety concept car.
Rapid prototyping with vacuum investment casting.
Direct shell sand rapid prototyping.
Direct shell production casting (DSPC).