Devices for Integrated Circuits: Silicon and III-V Compound Semiconductors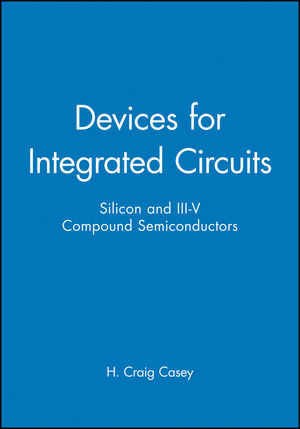 Devices for Integrated Circuits: Silicon and III-V Compound Semiconductors
ISBN: 978-0-471-17134-8 December 1998 544 Pages
Description
This book develops the device physics of the Si and III-V compound semiconductor devices used in integrated circuits. Important equations are derived from basic physical concepts. The physics of these devices are related to the parameters used in SPICE. Terminology is intended to prepare students for reading technical journals on semiconductor devices.
This text is suitable for first-year graduate students and seniors in Electrical Engineering; graduate students in Material Science and Chemical Engineering, interested in semiconductor materials; Computer Science students interested in custom VLSI design; and professionals in the semiconductor industry.
Table of contents
Integrated Circuit Family Tree
Electrons in Solids
Carrier Transport and Recombination
p-n Junctions: I-V Behavior
p-n Junctions: Reverse Breakdown and Junction Capacitance
Schottky-Barrier Devices
MOS Capacitors
MOS Field-Effect Transistors
Bipolar Transistors
Appendix I: Introduction to PSPICE
What's New
Physical understanding of devices is stressed throughout with all derivations completely laid out without steps missing.
Compound semiconductors are considered although the emphasis is on Si.
The physics of the semiconductor devices are related to the parameters used in SPICE.
Parameters are illustrated with PSpice examples and problems.
Circuit applications are given to illustrate the application of the devices.
Includes coverage of topics such as inversion layer thickness, drain current flow in field-effect transitors after pinch off, and the subthreshold current in MOSFETs.
Numerous homework problems provided to illustrate basic ideas.