Diabetes Cookbook For Canadians For Dummies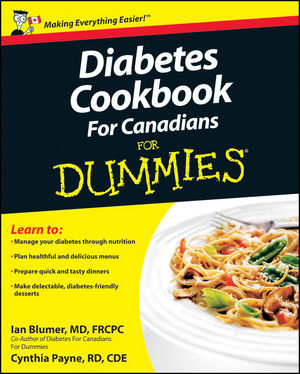 Diabetes Cookbook For Canadians For Dummies
ISBN: 978-0-470-67734-6 September 2010 384 Pages
Description
Over 100 delicious, easy-to-prepare recipes that will help any food lover manage and live with diabetes
Over two million Canadians have diabetes--with 10 percent living with type 1 diabetes, and the remaining type 2. With recipes reflecting Canada's diverse, multicultural population, this unique cookbook contains over a hundred mouthwatering recipes for everything from tempting appetizers like feta bruschetta and toasted walnut hummus to entrees like tandoori chicken and glazed asian lamb. Desserts and satisfying snacks aren't off the menu, either--the book contains recipes for sour cream chocolate chip cake, fruit trifle, and chocolate zucchini muffins that will satisfy the sweetest tooth.
Based on the latest recommendations from the Canadian Diabetes Association
Includes a 16-page full-color insert of photos of the book's many tempting dishes
Loaded with information for cooks with diabetes, the book also includes timesaving meal planning suggestions, shopping advice, and tips for plotting out a month of diverse and delicious menus. An essential companion volume to the bestselling Diabetes for Canadians For Dummies, this indispensable cookbook will help those with diabetes and their loved ones prepare and enjoy healthy, great-tasting food.
Introduction.
Part I: Diabetes and You.
Chapter 1: Diabetes 101: Discovering the Basics.
Chapter 2: You Are What You Eat.
Chapter 3: You Are How You Eat.
Chapter 4: Staying Healthy through Nutrition.
Part II: Cooking and Meal-Planning Essentials.
Chapter 5: Getting Equipped.
Chapter 6: Successful Food Shopping.
Part III: Healthy Eating: Natural, Nutritious Recipes.
Chapter 7: Rise and Shine with Breakfast.
Chapter 8: Savory Soups.
Chapter 9: Snazzy Salads.
Chapter 10: Appealing Appetizers.
Chapter 11: Creative Carbohydrate Concoctions.
Chapter 12: Don't Forget Your Veggies!
Chapter 13: Fishing for the Right Dish: Fish and Seafood Entrees.
Chapter 14: Birds of a Feather: Poultry Dinners.
Chapter 15: Mighty Meat.
Chapter 16: Vegetarian Variety.
Chapter 17: Delectable Endings.
Chapter 18: Kooking for Kids.
Part IV: The Part of Tens.
Chapter 19: Ten Frequently Asked Questions.
Chapter 20: Ten Diabetes Nutrition Myths.
Chapter 21: Ten Tips for Healthy Eating.
Part V: Appendixes.
Appendix A: Nutrition and Recipe Web Sites for People with Diabetes.
Appendix B: A Month of Menus.
Index.