Diabetes Cookbook For Dummies®, 2nd Edition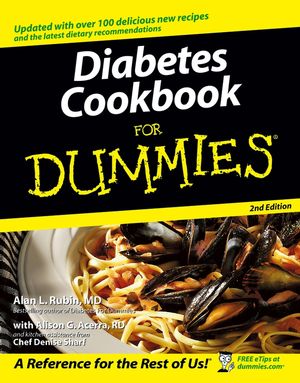 Diabetes Cookbook For Dummies®, 2nd Edition
ISBN: 978-0-764-58450-3
Aug 2005
416 pages
Product not available for purchase
Description
These recipes transform the typical diabetic diet from bland and blah to "Mmmmmm!" and "Ahhhhh!" Diabetes Cookbook For Dummies, 2nd Edition is extensively updated with more than 100 new recipes from great restaurants and great chefs. You'll discover taste-tempting dishes like Blueberry Almond Pancakes, BBQ Chicken Potato Hash, Beer Braised Pork, Sweet Potato Biscuits, and Chocolate Almond Biscotti. There's loads of new information about diabetes and the role of diet in managing it, plus:
Tips on how to fare well with restaurant or fast food fare
Coverage of ethnic foods, including African-American, Chinese, Italian, French, Indian, Thai, and Mexican
Info on popular diets, including South Beach, Atkins, Ornish, and others
Nutrition information and diabetic exchanges for each recipe
A "visual" guide to portion sizes with comparisons you'll remember, such as a medium potato is the size of a computer mouse
The scoop on new artificial sweeteners, including Splenda
Tips for food shopping, including how to decipher confusing food labels and calculate exchanges
A Restaurant Travel Guide for 14 cities, including New York, Boston, Chocago, Dallas, Denver, and Nashville
Alan Rubin, M.D. is one of the nation's leading authorities on diabetes. He wrote the bestselling Diabetes For Dummies, 1st and 2nd editions, and the 1st edition of Diabetes Cookbook For Dummies. While the cooking tips and great recipes will make you think he's a food guru, the doctor in him comes through. The book includes:
Updated recommendations for elderly diabetics
Info especially for pregnant or postmenopausal diabetics
Ways to promote healthy eating in children
Exercise advice—just 30 minutes a day protects against the complications of diabetes
With all this information and these recipes, you'll manage to eat very well while you manage your diabetes!
Introduction.
Part I: Thriving with Diabetes.
Chapter 1: What It Means to Thrive with Diabetes.
Chapter 2: How What You Eat Affects Your Diabetes.
Chapter 3: Planning Meals for Your Weight Goal.
Chapter 4: Eating What You Like.
Chapter 5: How the Supermarket Can Help.
Part II: Healthy Recipes That Taste Great.
Chapter 6: The Benefits of Breakfast.
Chapter 7: Hors d'Oeuvres and First Courses: Off to a Good Start.
Chapter 8: Soup, Beautiful Soup.
Chapter 9: Taking Salads Seriously.
Chapter 10: Stocking Up on Grains and Legumes.
Chapter 11: Adding Veggies to Your Meals.
Chapter 12: Boning Up on Fish Cookery.
Chapter 13: Flocking to Poultry.
Chapter 14: Creating Balanced Meals with Meats.
Chapter 15: Having a Little Bite with Snacks.
Chapter 16: Smart Ways to Include Dessert in a Diabetic Diet.
Part III: Eating Away from Home.
Chapter 17: Making Eating Out a Nourishing Experience.
Chapter 18: Fast Food on Your Itinerary.
Part IV: The Part of Tens.
Chapter 19: Ten (or So) Simple Steps to Change Your Eating Habits.
Chapter 20: Ten Easy Substitutions in Your Eating Plan.
Chapter 21: Ten Strategies to Normalize Your Blood Glucose .
Chapter 22: Ten Tactics for Teaching Children with Diabetes Healthy Eating Habits.3
Part V: Appendixes.
Appendix A: Restaurant Descriptions.
Appendix B: Exchange Lists.
Appendix C: A Glossary of Key Cooking Terms.
Appendix D: Conversions of Weights, Measures, and Sugar Substitutes.
Appendix E: Other Recipe Sources for People with Diabetes.
Index.
Podcast: Episode 1: Book Summary



Copy and paste the link below into the software you use to subscribe to podcasts (such as iTunes or Yahoo! Music Engine).


Or, use the buttons below to add this podcast feed to your favorite personalized site.

If you want to view the RSS 2.0 XML for this podcast (maybe you're just curious), click on this XML image:

If you're not into the podcasting scene, you can listen to the latest podcast episode by downloading the following episode links, or by right-clicking and using the "Save Target As" option to save the file to your hard drive.




Download