Diabetes For Dummies, 3rd Australian Edition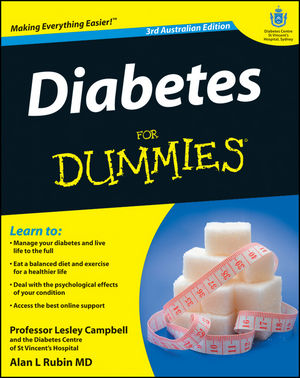 Diabetes For Dummies, 3rd Australian Edition
ISBN: 978-0-730-37501-2 May 2011 192 Pages
Download Product Flyer
Download Product Flyer
Download Product Flyer is to download PDF in new tab. This is a dummy description. Download Product Flyer is to download PDF in new tab. This is a dummy description. Download Product Flyer is to download PDF in new tab. This is a dummy description. Download Product Flyer is to download PDF in new tab. This is a dummy description.
Description
Your essential guide to managing diabetes successfully and living a full life
Don't just survive — thrive! Diabetes For Dummies, 3rd Australian edition, brings you right up to date with the latest research, treatment and management approaches for all types of diabetes. This book is essential reading whether you have diabetes yourself or are supporting a friend or relative with the condition.
Reduce your diabetes risk — understand and avoid the causes of prediabetes and diabetes

Recognise the importance of diet and exercise — adopt a healthy eating plan and exercise regime that works for you

Keep on top of self-monitoring and medication — learn what's new in research and treatment in Australia, and what advances are on the horizon

Deal with the emotional challenges of having diabetes — understand how your mental health affects your physical health and develop coping styles that work over the long term

Prevent short-term and long-term complications — know how to deal with low or very high blood glucose and find out how diabetes can affect your kidneys, nervous system, heart and eyes

Manage diabetes in children and older people — care for your child from infancy to self-management and help support the older person with diabetes

Get the support you need — know which organisations to turn to for help and access reputable online support
Open the book and find:
How to identify the differences between type 1, type 2 and gestational diabetes

Explanations for the drugs used in diabetes management

Tips for caring for your feet

Advice on coping with diabetes before and during pregnancy

Practical exercises for improving your mental health

How to deal with on-the-job and insurance obstacles

Ways to identify dodgy treatments and 'cures'
Learn to:
Manage your diabetes and live life to the full

Eat a balanced diet and exercise for a healthier life

Deal with the psychological effects of your condition

Access the best online support
Table of contents
Introduction.
Part I: Dealing with the Onset of Diabetes.
Chapter 1: Dealing with Diabetes.
Chapter 2: It's the Glucose.
Chapter 3: What Type of Diabetes Do You Have?
Chapter 4: Taking Preventive Measures.
Chapter 5: Dealing with Prediabetes.
Part II: How Diabetes Affects Your Body.
Chapter 6: Managing the Lumps and Bumps of Day-to-Day Diabetes.
Chapter 7: Preventing Long-Term Complications.
Chapter 8: Fabulous Feet.
Part III: Living with Diabetes: Your Physical Health.
Chapter 9: Glucose Monitoring and Other Tests.
Chapter 10: Medications: What You Should Know.
Chapter 11: Healthy Eating in Diabetes.
Chapter 12: Keeping It Moving: Exercise Plan.
Part IV: Living with Diabetes: Your Mental Health.
Chapter 13: Mind Matters: Mental Health in Diabetes.
Chapter 14: Diabetes Is Your Show.
Chapter 15: Putting Your Knowledge to Work for You.
Part V: Special Considerations for Living with Diabetes.
Chapter 16: Your Child Has Diabetes.
Chapter 17: Diabetes and the Older Person.
Chapter 18: Diabetes and Pregnancy.
Chapter 19: Occupational and Insurance Problems.
Chapter 20: Advances in Diabetes Care.
Chapter 21: What Doesn't Work When You're Treating Diabetes.
Part VI: The Part of Tens.
Chapter 22: Ten Ways to Prevent or Reverse the Effects of Diabetes.
Chapter 23: Ten Myths about Diabetes That You Can Forget.
Chapter 24: Ten Types of Websites to Learn More about Diabetes.
Part VII: Appendixes.
Appendix A: Insulin Pumps.
Appendix B: Mental Health Exercises.
Glossary.
Index.